If you've just started working for yourself or set up your own limited company, congratulations! Maybe you've made the decision to go it alone after being made redundant, following a period of furlough. Or maybe you've had a burning ambition for a long time to run your own business and have finally decided to take the plunge. Or you've spotted a gap in the market and want to seize the opportunity. Or maybe your motives are driven by something else entirely.
Whatever your reasons for starting up a small business of your own, alongside all the actions you'll need to take for a business start-up, such as registering your new business with Companies House and setting up a business bank account, you'll need to take out some business insurance.
But what is business insurance and how do you find out what you need?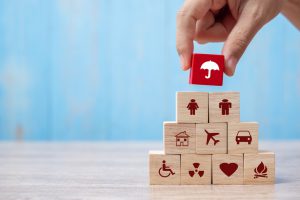 What is Business Insurance?
Business Insurance is an umbrella term to describe all the different types of insurance that a business might want to consider to protect the different risks they face. There is a myriad of products out there, often packaged up to create a business insurance policy or office policy.
Let's unpick the business insurance packaging and take a closer look at the individual products and what they cover.
Employer's Liability Insurance
If you have employees, you must take out Employer's Liability insurance. It's the law. If one of your employees has an accident at work or becomes ill because of the job they do, Employer's Liability insurance will cover their claim.
Public Liability Insurance
If visitors come to your place of work or you visit clients, then it's worth having Public Liability insurance. If a member of the public, whether this is a customer, supplier or other third party, is hurt while they are on your business premises, or has their property damaged, Public Liability Insurance will provide the protection you need to cover their claim.
Professional Indemnity Insurance
If your job involves providing advice or design services, you should look at Professional Indemnity Insurance. This covers you if someone claims that they have suffered financial loss as a result of work you've done for them.
For some licensed professions, such as architects, surveyors and accountants, Professional Indemnity insurance is a mandatory requirement. For others, such as marketing consultants and management consultants, it is recommended so that they are protected against the risk of a claim. Sometimes a client will include a requirement for Professional Indemnity insurance to be in place as part of a contract.
The cost of Professional Indemnity insurance will depend on a number of factors, including your occupation and the size of projects that you work on. Because Professional Indemnity insurance is underwritten on a claims-made basis, it will also depend on how far back you want to protect the work you've done in the past.
Buildings and Contents Insurance
If you have business premises, you'll want to consider Buildings insurance. And even if you don't have offices, it's likely that you have office equipment, such as computers and a printer, and maybe some office furniture. If this is the case, you should think about taking out Business Contents insurance.
Cyber Insurance
The threat posed by cyber criminals has grown dramatically in recent years. Reports of cyber-attacks, such as data breaches, phishing emails, malware and ransomware attacks, designed to destabilise businesses, are commonplace. And it's not just big businesses that are targeted. In fact, small businesses are far more likely to suffer a cyber-attack than they are to have a fire or break-in.
Cyber insurance provides protection against cyber criminals. Not only does it protect against any financial loss resulting from a cyber-attack, it provides access to specialist support to get systems back up and running and recover lost data.
Legal Expenses Insurance
Legal Expenses insurance will cover your costs if your business becomes embroiled in a legal dispute. This could be anything from a tax investigation to an employment tribunal. However, Legal Expenses insurance won't cover you if you've broken the law by committing tax fraud, for example.
Director's and Officer's Insurance
If you run a limited business and have directors, it may be worth taking out Director's and Officer's insurance. This provides protection if a director is alleged to have made a mistake, resulting in financial loss, while carrying out their fiduciary duties.
Intellectual Property Insurance
Intellectual Property refers to the intangible assets that belong to a business. This includes designs, trademarks, copyrights, logos and even the company name. Even though these assets are not tangible, they are usually valuable and could be worth protecting with Intellectual Property insurance.
Talk to Tapoly to Get the Business Insurance You Need
Tapoly specialise in providing insurance to small businesses, start ups and the self employed. We tailor insurance to meet your needs and protect the specific risks you face.
If you have any questions or would like to discuss your options please contact our Tapoly team at info@tapoly.com, call our help line on +44(0)2078460108 or try our chat on our website.