Most modern offices are entirely dependent on their computer equipment. If anything ever goes wrong with this equipment, work can quickly grind to a halt.
So you do need insurance to cover your office computer equipment. But what sort of insurance do you need?
In short, you need two types of cover – insurance for the computer hardware, and insurance for your data, and for any work you do online.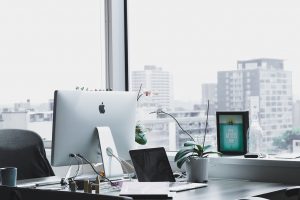 Contents Insurance – Cover for Computer Equipment
Contents insurance can cover laptops, smartphones, and personal belongings, whether you store them in an office or keep them at home. It covers you if your office computer equipment is lost or stolen, or if it's damaged by fire or flood.
Head here to read our detailed guide to contents insurance, and what it covers.
Cyber Breach Insurance
If you want to cover your office computer equipment, you need contents insurance to cover the physical side of things, and cyber breach insurance to cover the online and digital side.
No matter what sector you work in, most offices now do the vast majority of their work online. On top of this, most businesses now store their most vital data on hard drives and servers. All of this makes you vulnerable to cyberattacks.
Cyber breach insurance will protect your business against many online threats, while enabling you to recover from data breaches, hacking, and other online criminal activity.
Head here to read our detailed guide to cyber breach insurance, and what it covers.
Who Needs Cyber Insurance?
You might think that a cyber breach is the sort of problem that only happens to other people. And you might think that you and your staff are far too savvy to ever fall victim to an online scam.
Nothing could be further from the truth. The sad fact is that cyber attacks are getting increasingly common, and hackers and cyber criminals are always finding new ways to make money online. It's no longer the case that only naïve people are vulnerable to online scams. Cyber criminals can now run scams so sophisticated that you'll have no idea you're being scammed until it's too late.
According to a 2019 report, small businesses fall victim to around 10,000 cyber-attacks every day. This costs the UK a staggering £4.5 billion a year.
We're all vulnerable to online fraud. So if you do any work online, or if you store any data digitally, you need cyber insurance. It will help you and your business to bounce back from the effects of online criminal activity.
What Does Cyber Insurance Cover?
A good cyber insurance policy might include:
Legal and Forensic Services – Helping you to find the source of the data breach. Cyber security experts can assess the extent of the breach, and advise on the steps you need to take to restore integrity.
Monitoring Services – Why do criminals steal online data? Most of the time it's to make money, either through identity theft, credit fraud, or even blackmail. And because businesses store so much data online now, many people can be compromised by even a small data breach. But a good cyber insurance policy can include call centre services, credit monitoring and identity monitoring solutions to assist anyone affected by the breach.
Computer Security Cover – Some hackers aren't out to make money. Some of them just want to cause chaos. If hackers alter, corrupt, damage or destroy your valuable data assets, cyber insurance can cover you for any losses you suffer as a result.
Get Essential Cover for Your Office Computer Equipment
At Tapoly, we can provide a comprehensive insurance policy to cover your most vital computer systems both online and offline. Head here for more information and to get a free quote.