If you run any sort of business – whether you're a sole-trading freelancer or the head of a multinational – professional indemnity insurance can offer vital protection when you need it most.
Many people struggle with insurance. There are so many insurance products out there, and it might not be immediately obvious which ones are relevant to you.
Professional indemnity insurance is essential for any business that offers advice, consultations, or any other professional services. People choose to work with you because you're good at what you do. They trust you. And if they feel that your work doesn't deliver, they may feel justified in claiming for losses or damages. That's where professional indemnity insurance can be a lifesaver.
What is Professional Indemnity Insurance?
Professional indemnity insurance can cover claims of negligence, dishonesty, defamation, intellectual property infringement, information and privacy liability, and even cyber liability. Here are a few examples of when it might come in handy:
You're a graphic designer and you design a brand new logo for a client. The client loves your work initially, but eventually another company comes along, claiming copyright infringement. It turns out that your logo design has a little too much in common with their logo design.
When carrying out work on a client's computer, their system somehow gets infected with a virus, resulting in extensive data loss.
A client's sent you some sensitive information, which you've stored on your hard drive. You then fall victim to a hacking attack, which compromises the client's sensitive information.
You provide marketing consultation services, but your advice actually causes your client's sales to drop. Or you provide management consultation services, but your advice actually results in a drop in productivity.
Essentially, if a client alleges that you've made a mistake in your work, professional indemnity insurance will cover your legal defence, as well as any financial compensation for your client.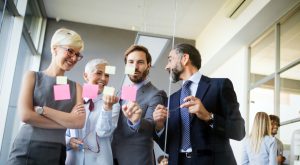 Do I Need Professional Indemnity Insurance?
The world is an unpredictable place. Sometimes things don't work out quite like you expect them to. And no matter how much research you do, and no matter what sort of caveats you give your clients, sometimes your advice, consultation or professional services could cause your clients to lose money.
You could have total faith in your work. You could make your clients sign agreements confirming that they understand that you can make no guarantees about how your work will pan out. But mistakes can still happen.
Also, is anyone ever totally safe from cyber-attacks? Cyber criminals are getting cleverer with every passing year. You could consider professional indemnity insurance as one more line of defence against the risks of cyber-crime. It might not protect you from an attack, but it will at least ensure that you and your client can recover from any losses to data or reputation.
Professional indemnity insurance is not a legal requirement under UK law (except for certain professions, such as accountants and architects). But like most types of insurance, you won't feel like you need professional indemnity cover until you do. It's effectively there to cover you against the worst case scenario. Certain clients may even stipulate that you need it before they agree to work with you.
How Much Professional Indemnity Insurance Do I Need?
It's all about setting a limit of liability. And if you're a contractor or a freelance sole-trader, your limits of liability could vary depending on who you work with, and the size of the job.
Before they agree to work with you, your clients may tell you the level of cover that they want you to have in place. They may even ask you to send them a copy of your insurance certificate before you start any work.
You can also set your own level of cover. Think about things like your annual turnover, and the size of the projects you work on. If the unthinkable did happen, whether it's a claim of copyright breach of an accusation of negligence, how much do you think it would cost to set things right?
Because of the varying nature of the work, for freelancers and contractors most public indemnity policies are surplus to requirements. That's why we offer flexible policies that you can adjust according to the needs of each individual job. We offer up to £2 million of professional indemnity cover. But if that feels like too much, you can always lower your limit. Get covered with us and you'll never pay for more than you need.
We offer professional indemnity insurance as a flexible and affordable add-on to our freelance and contractor insurance policies. Head here for more information, and to get a free quote in minutes.
If you need help and support in getting your insurance please contact us at info@tapoly.com