Hackers and other criminals are using increasingly sophisticated techniques to scam and exploit people. And nothing is off-limits for them. So you should consider any aspect of your business that relies on digital technologies as a potential weak-spot, as an area that cyber criminals could target.
Even if you're an independent contractor offering painting and decorating services, you'll likely still use your phone or a laptop to communicate with customers, to book jobs, and to order materials. You'll probably also have a website, for marketing purposes.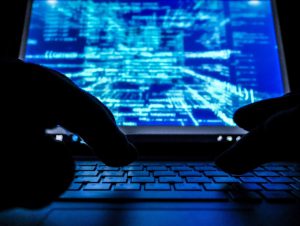 What is Cyber Insurance?
Cyber insurance covers you and your business for any losses you might make as a result of hacking, cyber-attacks, data breaches, viruses, and other online threats. No matter how big your business is, whether you're self-employed, a contractor, or a freelancer, there's no denying that you need cyber insurance.
We all use computers and smartphones these days. Indeed, it might not be possible to do business without them. During the 2020 lockdowns, many people in the UK started doing business entirely online. This means that more people than ever before are vulnerable to cyber-attacks.
How Common Are Cyber Attacks?
If you've never fallen victim to a hacker, you might think that cyber attacks are the sort of thing that happens to other people and other businesses. But cyber attacks are shockingly common. One report claims that, in 2019, small businesses fell victim to around 10,000 cyber-attacks every day. The cumulative annual cost of this criminal activity? £4.5 billion a year.
And since 2019, things have only got worse. There's no end to the lengths online criminals will go to. Many even sought to exploit the chaos and confusion of Covid-19 and lockdown to defraud people. In March 2020, City of London Police claimed they'd seen a 400% rise in online scams as a result of Covid-19 fraud.
Not all cyber-crime's the same, of course. Sometimes criminals intentionally target specific individuals and specific businesses for fraud. But mostly, they set traps in the hope that they'll deceive people. Fall victim to one of these traps, and there's no telling what sort of data and assets you could compromise.
Do I Need Cyber Insurance?
Cyber-criminals are always learning. Their techniques are getting more sophisticated by the day, which makes their scams much harder to spot. And even then, no amount of common sense will protect you should a hacker decide to target you, your company, or your assets.
Cyber insurance is your ultimate line of defence against cyber-attacks. Prevention is better than a cure, of course. But with cyber insurance, you'll be able to rest assured that, no matter what happens to you or your business online, you'll be covered for any losses. Your insurer will cover your expenses, leaving you free to focus on your recovery.
Is Cyber Insurance Included in My Business Insurance?
You will need to check your specific policy, however, many of the major insurers do not include cyber cover in their standard business insurance policies. So it's likely you won't be covered in the event of a cyber-attack or data breach.
What Does Cyber Insurance Cover?
Cyber insurance will cover you for many of the consequences of a cyber-attack. It'll cover the costs of any:
Legal and forensic services that will work to find the source of the cyber-attack.
Direct consequences of a data breach. This can include legal and forensic services, where experts will work to uncover the source of the breach. This is useful because, once you know how and where the breach occurred, you'll know what you have to do to safeguard yourself against future attacks.
Any losses you might make as a result of lost data assets such as if you unknowingly pass on a virus to a client or customer. As part of your cyber insurance insurers will usually inform and advise anyone affected by a security breach on your behalf.
Monitoring services which basically means that experts will work to ensure that nobody falls foul of identity theft or credit fraud as a result of a data breach.
But cyber insurance doesn't cover you for everything. For example, it probably won't cover you for any reputational damages you suffer as a result of a cyber-attack. Nor will it cover you should anyone decide to take legal action against you after a data breach. To protect yourself against these scenarios, you'd need professional indemnity insurance and legal expense cover.
Finally, cyber insurance won't cover you for any physical damage to your electronic equipment. Nor will it cover you should you accidentally spill a cup of coffee on a client's computer. For this, you'll need contents insurance.
Get more information about how cyber insurance works, what it covers, and to get a free no-obligation quote in minutes.
If you have any questions or would like to discuss your options please contact our Tapoly team at info@tapoly.com, call our help line on +44(0)2078460108 or try our chat on our website.