Most SMEs are familiar with business insurance that protects their physical assets. This might include:
Buildings Insurance to cover the property where their office is located;
Contents and Equipment Insurance to protect their furniture, office equipment and any machinery;
Commercial Vehicle Insurance to cover any work vehicles;
Employer's Liability Insurance to protect their workforce.
However, few businesses consider protecting their Intellectual Property (IP).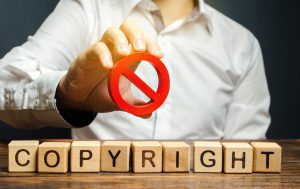 What is Intellectual Property?
Intellectual Property is the term used to describe intangible assets. While you can't touch or feel these assets, they are nevertheless valuable. In fact, for some businesses their value may amount to as much as 80% of the value of the total business.
In its simplest form, the name of the business or the website address constitutes IP. Other assets might include:
Trademarks
Patents
Copyrights
Designs
Trade or industrial secrets.
When Does IP Infringement Occur?
IP infringement happens when someone uses, copies or exploits your work in some way. It's important that this work has been protected by Intellectual Property law through patenting, copyrighting or another means. For example, if a competitor starts selling an identical design for commercial gain you would have grounds on which to sue them.
What Insurance is Available to Cover IP Infringement?
IP infringement wouldn't be covered by a standard Business Insurance policy. Instead, it is necessary to have specialist cover that specifically includes IP infringement.
If you have valuable Intellectual Property you want to protect, there are three options worth considering:
IP Insurance
The most comprehensive protection available specifically for Intellectual Property is IP Insurance. While cover provided by different insurers may vary, in most cases this will give you the broadest protection, including:
Legal defence and compensation costs if you inadvertently breach someone else's Intellectual Property;
Legal costs to pursue someone if you think they have infringed your IP;
After The Event cover;
Investigation costs;
Business interruption costs caused by an injunction;
Compensation to cover breach of an agreement, such as if you inadvertently fail to pay royalties on time.
IP insurance is also a good deterrent to large businesses, who may believe that you don't have the resources to pursue an Intellectual Property claim against them.
Professional Indemnity Insurance
Not to be confused with IP Insurance, Professional Indemnity Insurance (PI Insurance) protects your business if you make a mistake or give bad advice during the course of your work.
Mistakes could include IP infringement. This means that if you accidentally breach someone else's Intellectual Property, your Professional Indemnity Insurance might cover the cost of your legal defence and any compensation awarded.
However, PI Insurance is unlikely to protect you against all IP breaches. It also won't cover Intellectual Property infringements that you want to pursue against third parties who breach your IP.
Legal Expenses Insurance
Available as a stand-alone policy or as an add-on to business insurance, Legal Expenses Insurance will cover your legal defence costs if you are involved in a dispute. This includes IP infringement disputes, both if a claim is made against your business or you wish to pursue a third party for an IP breach.
In summary, if your business owns valuable IP, you should consider protecting it with insurance. While Professional Indemnity Insurance will cover you if you breach IP that belongs to someone else, it won't protect you if you want to make a claim for IP infringement yourself. To do that you need Legal Expenses Insurance.
If you need to protect your IP beyond legal defence costs, you should probably look at taking out specific Intellectual Property Insurance.