Want to become an aromatherapist? This short guide will tell you almost everything you need to do to get started, from the qualifications you'll need to the legal processes you'll have to go through to set yourself up. We'll also share some tips on how to find your first aromatherapy clients.
Throughout this post we'll be linking to other guides on our site, which cover certain issues in greater detail.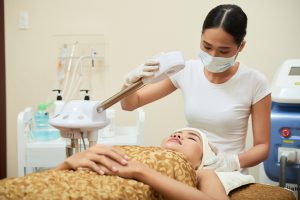 What is Aromatherapy?
Aromatherapy is a form of complementary therapy. It's a course of treatment a patient might take alongside other treatments. So if they're suffering from a long-term injury, for example, a patient might go through a course of physiotherapy to help them move again, alongside a course of aromatherapy to help them relax and stay positive throughout their treatment.
What Does an Aromatherapist Do?
Aromatherapists use essential oils to increase the mental and physical wellbeing of their clients. Aromatherapy treatment usually involves partial or full body massages. However, an aromatherapist is different from a massage therapist.
How Is an Aromatherapist Different from a Massage Therapist?
A massage therapist's treatment is intended to work muscles, improve flexibility, and alleviate pain. An aromatherapist will instead help a client relax and manage conditions such as stress and anxiety with the help of soothing or uplifting scents.
What Qualifications Do I Need To Become an Aromatherapist?
There is no official registration required to become an aromatherapist. However, aromatherapy is a highly specialised field. You'll need to be adept at selecting and preparing essential oils and other substances based on a client's unique physical, emotional, and spiritual needs. You'll also have to learn some massaging techniques, along with the ability to communicate with clients before, during, and after their treatment.
As a result, you should aim to complete either a dedicated aromatherapy training course, or an apprenticeship. Aim for a qualification that's either accredited by a professional association, or which abides by National Occupational Standards (NOS) guidelines.
You should also aim to become a member of a recognised professional association, such as The IFA. And when applying for a job as a qualified aromatherapist, you will likely have to pass an enhanced background check.
These qualifications and accreditations won't just help you learn the skills you'll need to work as an aromatherapist. They'll also help you ensure you stay on the right side of the law, while acting as a strong trust signal to all future clients and employers. Potential clients may not want to work with an aromatherapist who can't show any credentials!
Aromatherapy University Courses
Many universities offer foundation degrees and degrees in complementary therapies and complementary healthcare, and these courses usually include aromatherapy units.
You'll usually need at least one A-level or equivalent for a foundation degree, and two or three A-levels for a degree.
College Diplomas
Many colleges offer Level 2 or Level 3 Diplomas in Complementary Therapies, and Level 3 or Level 4 Diplomas in Aromatherapy for the Complimentary Therapist.
For a Level 2 course, you'll usually need two or more GCSEs at grades A* to D. For Level 3 courses, you might need four or five GCSEs at grades A* to C.
Aromatherapy Apprenticeships
Finally, you could qualify as an aromatherapist through completing an advanced wellbeing and holistic therapist apprenticeship. This can take up to 20 months to complete, and it will usually involve a combination of workplace learning and classroom or home-based study.
Different apprenticeships will have different entry requirements. But most advanced apprenticeships will require five GCSEs at grades A* to C, including English and Maths.
There's a good guide to finding and applying for apprenticeships on the government's website.
Setting Up Your Aromatherapy Business
Once you've qualified and applied for your accreditations, you can either:
Apply for a job as an aromatherapist at a spa or health centre.
Start your own aromatherapy business.
If you want to start your own aromatherapy business, there are two things you'll need to do before you do anything else:
Think of a name for your business, and register it with HMRC.
Go through the official government channels to legally register your aromatherapy business.
You can read our full step-by-step guide to setting up a business.
Finding Your First Clients
As a newly established aromatherapist, you'll have multiple avenues for finding your first paying clients:
Talk to your friends and family, and any former colleagues from your previous jobs. Let them know what sort of services you're offering. If they don't want to use your services themselves, they might know some people who do.
Talk to other, more established aromatherapists. Some of them might be so busy that they'll happily refer some potential clients to you. And if not, they might be willing to share some tips from their early days as an aromatherapist.
Contact the IFA, or another governing body, for advice. Some governing bodies may even publish job listings.
Market yourself, either online or offline. Printed fliers and business cards could help you find clients in your local area in your early days. But for long-term success, you'll almost certainly need your own website – ideally one that allows customers to book online – along with a few social media channels for promotion.
Ask all of your clients for reviews, testimonials, and feedback. Along with your qualifications and accreditations, these will act as strong trust signals, so they'll help you find yet more clients as your aromatherapy business grows.
Be sure to read our full guide to finding your first paying clients as a freelancer too. This contains some important advice for anyone who decides to start their own business: Never work for free, and never work for "exposure"!
Specialist Support For Aromatherapists
As we mentioned above, aromatherapy is a form of complementary therapy. As such, if you want to work as an aromatherapist, you must get specialist insurance cover to protect you and your clients from certain treatment and legal risks.
Read our full guide to the type of insurance you might need as an aromatherapist. This guide also has information on additional ways you can keep you and your clients safe, including patient consent forms, client records, and aftercare advice.
At Tapoly, we specialise in giving all types of professionals tailored insurance cover at an affordable price. You won't pay for any cover you don't need, and there are no hidden fees. To see how much you might expect to pay for your aromatherapist insurance, get in touch for a free quote in minutes.
If you have any questions or would like to discuss your options, please contact our Tapoly team at info@tapoly.com, call our helpline on +44(0)2078 460 108 or try our chat on our website.