The process of registering your business name is different depending on whether you're setting up as a sole trader or a limited company. See our guide to learn about the difference between these two arrangements.
How to Choose Your Business Name
Many businesses go for snappy names that'll help them stand out from their competitors. But the most important thing is that your business name gives a clear idea of who you are and what you do.
To help you choose a name for your business, first consider the things you're not allowed to include.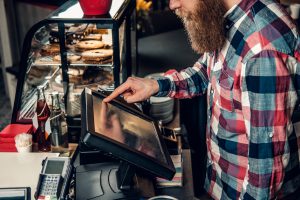 What Can't You Put in Your Business Name?
Unless you get prior approval, you cannot use certain words or expressions in your business name. Most of the restricted words and phrases are those that might:
Give people the wrong idea about who you are
Imply you're connected with a branch of government or a specific public authority
Be deemed "offensive"
The government don't outline their criteria for what they consider to be offensive, but you can probably imagine the sort of thing they have in mind.
For more information, you can read the complete list of restricted words.
Can I Have The Same Name as Another Business?
No, your business name cannot be the same as any other business's name. The government will refuse to register your business name if it's the same as, or too similar to, any other business.
There's a handy company name availability checker on the Companies House website.
How to Register a Business Name – As a Limited Company or LLP
If you're setting up a limited company or LLP, you'll need to register with Companies House.
How to Register a Business Name – As a Sole Trader
Sole traders don't have to register with Companies House. Instead, you need to register with https://www.gov.uk/set-up-sole-traderall the restrictions that apply to limited companies and LLPs, sole traders may not use any words that might give the wrong idea about how you run your business in your business name. These include "limited", "ltd" and "PLC".
As a sole trader, you can also choose to simply trade under your own name.
How Much Does it Cost to Set Up a Business Name?
It doesn't cost anything to register with HMRC. But it will cost you to register with Companies House.
If you register online, you can set up a business name for as little as £12.
If you want to register your business name by post, it'll cost you £40, plus postage.
How to Protect Your Business Name
Once you've registered your business name, no other business will be allowed to register with a name that's similar or identical to yours. However, people may still use elements of your business name. Ans in some cases, this might threaten your brand.
So for a bit of extra protection, consider registering your business name as a trade mark.
Extra Protection for Your Business
Whether you're a sole trader or a limited company, insurance offers essential protection against almost anything that could possibly go wrong.
At Tapoly, we offer comprehensive insurance packages that will give you the tailored cover you need at a price you can afford. Head here to get a quote in minutes.
If you have any questions or would like to discuss your options please contact the Tapoly team at info@tapoly.com, call our help line on +44(0)207 846 0108 or try our chat on our website.