If you're a beautician, it's a good idea to protect yourself with treatment liability insurance. This will give you essential cover should any of your customers ever make a claim against you.
Reasons a Customer Might Make a Claim Against a Beautician?
Customers might have a claim against you for many reasons. They might suffer an allergic reaction to a product you use. Or you might make a mistake while performing a tricky procedure, causing an injury.
It's also possible that your customer might just feel dissatisfied with your work. And yes, unhappy customers can indeed take legal action against you if they feel a botched beauty job has affected their abilities to work!
Treatment liability insurance will cover you if you ever face legal action from a customer. But you can make this sort of litigation much less likely if you make a point of getting a customer's consent, in writing, before you perform any procedure.
And the easiest way to get this consent is with an aesthetic consent form.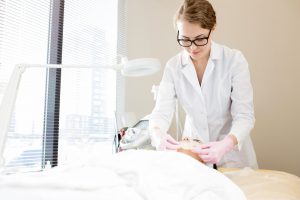 What is an Aesthetic Consent Form?
An aesthetic consent form allows your customer to provide written confirmation that they understand the risks surrounding the procedures you provide. You should ask your customers to complete an aesthetic consent form before you provide any treatment or undertake any procedures.
Even if it's a standard, everyday procedure, and even if it's one the customer's received many times from you before, it's important to get consent in writing every time.
Why Do You Need an Aesthetic Consent Form?
Many medical malpractice cases will focus on three questions:
Did the practitioner fully explain the risks of the procedure?
Did the patient fully understand these risks?
And did the practitioner accurately record these risks, and the patient's understanding, in their notes?
With an aesthetic consent form, all of this information will be in black and white. So if a customer ever makes a claim against you, you can offer clear and unambiguous proof that the customer understood the risks surrounding the procedure, and that you only proceeded with their written consent.
What Should You Include on an Aesthetic Consent Form?
Customer details. Name, age, gender, address, date of birth, and so on. All of this is to make it clear that the customer is who they say they are. Though if you're collecting personal data from customers, make sure you keep that data secure.
A declaration. Put in writing exactly what you want the customer to agree to. The wording you use will depend on the treatment in question. But it should be some variation of "I confirm that I have been made aware of the risks associated with this procedure."
Screening questions. Some treatments might not be suitable for certain people. So you might ask your patient to confirm, for example, that they're not pregnant or breastfeeding, or that they've never suffered adverse reactions to procedures before.
A declaration from you. You can use the aesthetic consent form to highlight your training and experience, and to confirm that you have indeed discussed the risks with the customer.
Signatures and dates. Both you and the customer should sign the form and add the date on which you signed.
Aesthetic Consent Form Statement
JotForm is an online database of form templates. You'll find a few consent form templates on their site. Here's a good consent form template to start with.
Some of the information on that form might not be applicable to the treatments you provide. But it should give you a good idea of the sort of things you should include on your patient consent form.
Further Support For Beauty Therapists
You'll find a few guides on our site to help you understand some of the risks associated with your work:
At Tapoly, we specialise in giving self-employed beauty therapists comprehensive cover for less. You can get tailored self-employed insurance starting at just 35p a day, with no hidden fees.
If you have any questions, or you'd like to discuss your options, you can contact the Tapoly team at info@tapoly.com. You can also call our helpline on +44(0)207 846 0108, or you can use our online website chat.