Life as a freelancer can be immensely rewarding and very well-paid. But it can also be challenging, particularly if you're just starting up.
We have many guides that'll help you make those important first steps as a freelancer:
One area where most new freelancers struggle is in finding paying clients. Where can you find clients you can rely on, who understand the value of your work, and who are willing to pay?
These clients are out there! But when you're just starting out, they might feel mythical.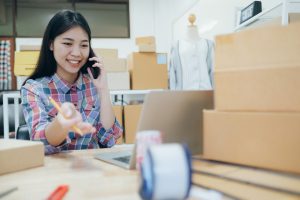 How to Find Paying Clients as a Freelancer
The trick is in knowing where to look. But it's also important that you understand how much your time is worth. And it's vitally important that you stay positive. It might take you a while to build up a portfolio of clients you can depend on. But persevere. Never give up, and you're sure to start making money as a freelancer before long.
Never Work For Free!
Before we explore where you might look for paying clients, let's look briefly at the worst thing you can do as a new freelancer. Never work for free. Also avoid the temptation to charge a lower rate to attract new clients.
As a freelancer, time is money. Undersell yourself and you'll never make a profit. Instead, you'll work endless hours just to break even. This means your business will never grow, and you'll probably start to feel burnt out and resentful.
You want to work with clients who understand the value of what you do. Clients who understand this will be more than willing to pay, as they know that they'll get what they pay for.
Head here to read our full guide to setting your hourly rate as a freelancer.
Never Work For Exposure!
Some potential clients might offer to pay you in "exposure". By this they mean that, instead of paying you in cash, they'll instead give you the experience – something to add to your portfolio and, in theory, a bit of support in getting your name out there.
If you're just starting out as a freelancer, this might seem like a tempting offer, especially if your current portfolio's looking a little thin.
But you should never work for exposure. No amount of "exposure" is worth the amount of work you'll put in to meet this client's needs. "Exposure" is vague and unquantifiable, and there's no guarantee that it will result in paid work, or even potential leads.
Working for "exposure" basically means working for free. And as we explained above, you should never do this.
If someone offers to "pay" you with exposure, be polite. Explain that you have overheads to meet, and that good quality work always costs money. Tell them what your rates are. You never know, they might just see the error of their ways, and offer to pay you. But they probably won't. So learn to say no, and learn to walk away.
Where Can I Find Paying Clients as a Freelancer?
Where are these mythical paying clients hiding, and how can you find them? Some of the most reliable sources of paid work can be:
Friends and family
Former Employers or colleagues
Agencies
Other freelancers
Online
Marketing
Let's look at some of the most reliable sources of paid freelance work in a bit more detail.
Talk To Your Friends and Family
Tell them what you do, and make it clear that you're looking for work. They might have need of your services themselves. Or they might know somebody else who does. In any case, your immediate circle is an excellent place to start looking for paid freelance work.
These are the people who'll want to support you. They're not your competitors. They want you to succeed! So it's likely they'll do all they can to help you find work.
Just beware – your friends and family might expect you to work for free, or for "mate's rates". If so, politely explain that this is what you do now – it's your job – and as such you do expect them to pay. They might be disappointed, but they'll understand!
Talk To Your Former Employers and Colleagues
Think beyond your immediate circle of friends and family and start approaching other people you know. Your former employers and colleagues might need your services, or they might know someone else who does. If you work in an appropriate field, your former employer might even be willing to hire you on a freelance basis.
Just be aware that this sort of working relationship might cause some tax issues.
Contact Agencies
This is a particularly good route if you work in IT, web design, or digital marketing. There may be dozens of agencies in your area specialising in your field. They'll have a staff of full-time workers, but they may also be willing to work with freelancers.
There's no harm in asking! Send an email or make a call to introduce yourself. Or better yet, arrange to meet someone from the agency for a coffee and a chat.
But again, just be aware that working with an agency as a self-employed freelancer could cause some tax issues.
Contact Other Freelancers
Technically, other freelancers working in your field are your competitors. But it doesn't have to be that way. Sometimes established freelancers have to turn work down, as they're too busy. When they do this, they'll often recommend another freelancer who has the time to do the work. That could be you!
Also, freelance consultants often work with other freelancers with different skillsets. A marketing consultant might pass work onto a freelance copywriter, for example.
So research the freelancers in your area, and introduce yourself. An email's good, a call is better, but a face-to-face meeting over coffee is best.
Find Work Online
There are many websites dedicated to helping freelancers thrive. Many of them contain listings of available jobs.
Here's a few to start with:
Just note that there will probably be a lot of competition for any jobs you find on these sites. Also, some of these sites work like online agencies. People Per Hour, for example, requires you to take an aptitude test, and they also take a small cut of your earnings.
Take a look at our short guide to more essential resources for freelancers.
Market Yourself
So far we've looked at some places where you might find paid work in the short-term. But marketing yourself is your long-term strategy for sustainable success.
We don't have the space to give detailed advice on how to market your freelance business. But here's a few ideas if you want to know where to get started:
Build a digital portfolio. Most potential clients will ask to see your portfolio. You can make a digital portfolio on Carbonmade, which anyone can access with a simple link.
Get a website. Your website can explain who you are, and what you do. It can list your rates, and give potential clients a means of getting in touch. Crucially, you can also use your website to blog. This is a chance to show off your expertise and your personality, and to create the sort of content that shows up in search results. You can build a beautiful website cheaply and easily using WordPress.
Get social. Use Twitter to show off your expertise to key influencers in your field. Use LinkedIn to build your brand and connect with leads. If you're a designer, an illustrator, or a photographer, use Instagram to show off your work. In any case, just be aware that social media can be a massive time sink. Don't let it distract you!
Get out there. If all else fails, consider going door to door in your nearest town or city. Identify the businesses you could work with. Then introduce yourself, explain what you do, and try and make an appointment for a more involved chat. It's a good idea to print business cards, so that anywhere you visit would have an easy way to reach you.
If you'd like a more thorough guide to marketing yourself as a freelancer, read You're The Business, an excellent book for newly self-employed people by Anna Codrea-Rado.
Need More Support as a Freelancer?
It's one thing to find paying clients. It can be another challenge entirely to ensure they pay you for the work you do. Head here to read our guide to what to do if your clients don't pay your invoices.
As a freelancer, it's vital that you take steps to protect yourself against the various things that could go wrong in your line of work. Insurance can be an essential safety net, guaranteeing total peace of mind that you'll be fully covered, no matter what happens. Head here to read our guide to insurance for freelancers.
At Tapoly, we specialise in providing freelancers with the cover they need, for less. Get in touch for a free quote in minutes.
If you have any questions or would like to discuss your options please contact our Tapoly team at info@tapoly.com, call our helpline on +44(0)2078 460 108 or try our chat on our website.