All businesses need professional indemnity insurance and public liability insurance. Together, these policies will cover your businesses for any mistakes you make in your line of work, whether they're professional oversights or simply accidents in the workplace.
But if your business involves more hands-on work, such as healthcare or beauty treatments, you'll need more specialist insurance policies to cover the unique risks you and your customers face.
Depending on the work you'll do, you'll either need medical malpractice insurance or treatment risk insurance. But what's the difference, and which type of cover do you need?
In this post we'll explore each type of cover in turn, to help you decide which is right for you.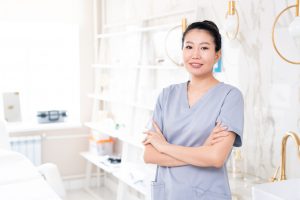 What is Medical Malpractice Insurance?
As suggested by the name, medical malpractice insurance is specialist cover for healthcare workers. It covers you for claims arising from any mistakes you might make in your line of work.
In the high-risk world of healthcare, a simple mistake can result in physical injury, mental anguish, sickness, shock, or even death. So obviously, malpractice claims can be immensely costly, often involving six-figure settlements.
A standard public liability or professional indemnity policy wouldn't cover these life-or-death risks, nor would it cover such costly claims. That's why anyone who provides any form of healthcare or ancillary services to patients should consider specialist medical malpractice insurance cover.
We have a complete guide to medical malpractice insurance that explains how it works, what it covers, and how much it costs. Find it here.
What is Professional Treatment Liability Insurance?
Like medical malpractice insurance, treatment liability insurance is a specialist form of professional indemnity insurance that covers risks associates with professional activities.
What's the difference between medical malpractice insurance and treatment liability insurance? It's simple: Medical malpractice insurance is for healthcare professionals. Professional treatment liability insurance covers people who provide treatments that don't fall under the umbrella of healthcare.
So medical malpractice insurance covers doctors, nurses, surgeons, anaesthetists, pharmacists, and so on. Treatment risk insurance, on the other hand, covers massage therapists, barbers, hairdressers, beauticians, and anyone else who provides potentially risky professional treatments.
We have a complete guide to treatment liability insurance that explains how it works, what it covers, and how much it costs. It also explores some of the risks and situations where this form of cover could come into play. You can read our guide here.
Treatment Risk Insurance or Medical Malpractice Insurance – Which is Right for Me?
To sum up, you need medical malpractice insurance if you're a:
Doctor
Nurse
GP
Surgeon
Anaesthetist
Counsellor or therapist
Dentist
Chiropodist
Pharmacist
Veterinarian
Or if you work in any other profession that involves providing healthcare or ancillary services to patients.
On the other hand, you need professional treatment liability insurance if you're a:
Massage therapist
Beautician
Hairdresser
Sport physiotherapist
If you work in healthcare, your employer might already have a group medical malpractice insurance policy. However, you should consider getting a policy of your own too, as your employer's policy may only cover you for work you undertake at certain times and in certain places. Also, your employer's policy may only cover you for as long as you work for them. So if a claim arises after you've retired or changed employers, you may still be liable.
So talk to your employer about their insurance. And if you spot any gaps in their policy, think about getting a personal medical malpractice insurance policy to ensure total peace of mind.
Most of the professions that a treatment risk insurance policy covers are dominated by freelancers. If you're self-employed and you provide professional treatments to customers, then you'll certainly need to sort out your own professional treatment liability insurance cover.
At Tapoly, we specialise in providing self-employed workers from all industries with comprehensive cover for less. Head here to get a free quote online in minutes.
If you have any questions, or if you'd like to discuss your insurance cover options, you can contact the Tapoly team at info@tapoly.com. You can also call out help line on +44 (0)207 846 0108, or you can use our website chat.