What sort of qualifications do you need to give Botox injections and lip fillers? What sort of training will you need to take, and what sort of insurance will you need?
In this post we'll explore the legal side of Botox injections and lip fillers. So if this is a service you want to offer, this guide should tell you all you need to know.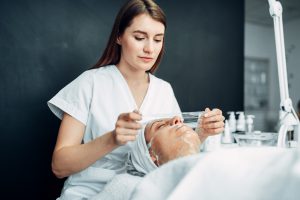 What is Botox?
Botox is Botulinum toxin. A Botox injection can relax the muscles in the face to smooth out lines and wrinkles. The effect isn't permanent. It can last for up to four months.
What are Fillers?
Rather than smoothing wrinkles, fillers add volumes to areas including the lips and cheeks. Most fillers contain a substance called hyaluronic acid. The effects can last for up to 18 months – longer than Botox injections, but they're still not permanent.
Both treatments are purely cosmetic. They offer no health benefits beyond changing or enhancing how someone looks.
What are the Rules About Administering Botox?
Botox is a "prescription-only medicine" (POM). This means that:
There are strict rules about how you advertise the service to the public. You can advertise that you offer "consultations", but not that you offer the service itself. By extension, you cannot make outlandish promises about what the service can deliver. You can't, for example, promise to make patients "look years younger". Check the Advertising Standards Agency website for a full guide to the legislation.
Botox injections can only be prescribed following a face-to-face meeting with a qualified medical practitioner. Qualified medical practitioners include doctors, dentists, pharmacist prescribers and nurse prescribers.
The person who prescribes Botox is responsible for ensuring the injection is delivered safely. But they don't necessarily have to give the injections themselves. Instead, they just have to ensure that the person who does has the right qualifications and experience.
Who Can Give Botox Injections?
The rules mean that practitioners who want to offer Botox injections as a service must first offer a face-to-face. During this consultation, you should discuss all options, and you should outline the potential risks of Botox injections. And crucially, you must also refer to a medical professional – the prescriber – who'll check that the customer is fit for the procedure.
Who Can Give Filler Injections?
Dermal fillers are not prescription-only medicines, so the legislation isn't so strict when it comes to advertising and prescription. However, the NHS advises that patients avoid practitioners who don't meet certain standards of experience, qualifications and insurance.
What Qualifications Do You Need to Give Botox Injections and Fillers?
Many colleges and training providers offer specialist courses for administering Botox injections and dermal fillers. Ideally, you should aim for a Level 7 Diploma in Clinical Aesthetic Injectable Therapies. You may have to take some foundational courses before you can take this course.
Make sure that any training provider you choose is fully accredited by an appropriate body, such as the CPD and the Aesthetic Training Provider Association (ATPA).
How to Become Accredited to Administer Botox and Fillers?
Once you're qualified, you should also aim to get yourself listed on an accredited register. Two leading accredited registers for cosmetic practitioners are the Joint Council for Cosmetic Practitioners (JCCPO) and Save Face. Each may have a different criteria for joining the register, so make sure you have everything you need before you apply.
Also note that these registers usually charge you for membership. But as you may struggle to find customers without registering, it's certainly a price worth paying.
What Insurance Do I Need to Give Botox Injections and Fillers?
Botox and dermal filler injections are safe for most people. But you'll need insurance to cover you in case someone has allergic reaction, for example – which is why that initial consultation is so crucial. It's also possible that practitioners might make mistakes during the procedure.
If a patient isn't happy with their treatment, for whatever reason, or if they suffer an adverse reaction, they could take out a claim against you.
So if you want to offer these treatment options, it's vital that you have the right insurance in place. Depending on the level of service you offer, you'll need either medical malpractice insurance or treatment risk insurance.
If you've got any questions about medical malpractice insurance, please contact the Tapoly team at info@tapoly.com, call our helpline on +44(0)2078 460 108 or try our chat on our website.