Some professional indemnity insurance contracts include an "indemnity to principal" clause.
What does this mean, and how does indemnity to principal insurance differ from standard professional indemnity insurance?
What Does Indemnity to Principal Mean?
Indemnity to principal insurance basically means that, if you make a claim on a policy, you won't receive the payment yourself. Instead of going to you, the policyholder, the payment will go to the principal – whether that's your client or another contractor's client.
You're most likely to find an indemnity to principal clause in a contractor's insurance policy.
The "principal" in a contractor's insurance contract is usually the end client. Though in some cases, the principal might be another contractor – the one who engaged you for work on their client's behalf.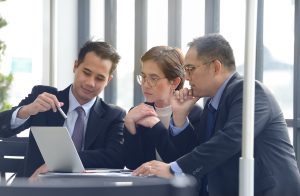 How Does Indemnity to Principal Insurance Work?
Here's an example of how indemnity to principal insurance might work in practice:
Say you're a contractor, a painter/decorator, and a client hires you to paint their office. Unfortunately, the client's not happy with your work. They claim that you haven't met their high standards, and that the finished job does not reflect your brief.
This client then makes a claim against you, accusing you of professional negligence. Luckily, you've got a professional indemnity insurance policy that covers you for such claims.
With an indemnity to principal clause, all payments will go directly to "the principal" – the client. So they'll get the settlement they're due much sooner than they would if the payment went to you, the policyholder.
What's The Difference Between Indemnity to Principal Insurance and Standard Professional Indemnity Insurance?
If a professional indemnity insurance policy does not contain an indemnity to principal clause, then in the event of a claim, any settlements will go to you. You'll then be responsible for paying your client any money they're due. So an indemnity to principal clause basically cuts out the middleman. It means the client gets their settlement quicker, and they don't have to worry about any potential delays.
Do I Need Indemnity to Principal Insurance?
Some clients will insist you have professional indemnity insurance before they agree to work with you, as it helps them manage risk. This is one reason why all freelancers and contractors need professional indemnity cover.
Some clients may go a step further, and insist that your professional indemnity insurance policy includes an indemnity to principal clause. Why? Because it gives them extra protection, and total peace of mind.
Following a loss, a client will want their settlement as soon as possible. And that's all an indemnity to principal insurance clause does – it removes all possible barriers to the client receiving their settlement.
How to Check You Have a Indemnity to Principle Clause
Don't assume that your professional indemnity policy includes an indemnity to principal clause as standard. Some insurers add this clause automatically to their policies. Others offer it as an optional extra, or on a case-by-case basis.
So talk to your insurer if you're not sure. Because if a client agrees to work with you on the basis that you have indemnity to principal cover, and you don't, then you may be breaching your contract before you even start working!
If you have any questions, or you'd like to discuss your options, you can contact the Tapoly team at info@tapoly.com, call our info line on +44(0)207 846 0180, or use the chat box on our website.