If you're a beauty therapist of any kind you'll need dedicated insurance to protect you and your clients from on-the-job risks. In this post we'll explore the types of claims a beauty therapist might encounter, and the type of insurance that'll keep you covered.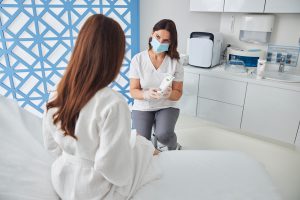 What Sort of Insurance Claims do Beauty Therapists Face?
You'll face different risks depending on the type of work you do as a beauty therapist. But here are the sort of scenarios in which a beauty therapist might have to make a claim on insurance:
Damage to property. If you do home visits, it's all too easy to spill a jar of nail polish, or even a cup of coffee, on a client's carpet. You might also spoil a bride's big day by spilling something on her dress. These things happen! But when they do, your clients might make a claim for the damage you caused to their property.
Loss or theft. No beauty therapist can work without their equipment – whether it's a makeup palette, some specialist beauticians tools, or even your smartphone and laptop. If anything happened to any of this equipment – if any of it were lost, damaged, or stolen – would you be able to afford replacements?
Accident, injury, and illness. If you fall ill or get put out of action by an injury, you might not be able to work. And as self-employed people don't get statutory sick pay, how would you get by if you cannot work? Plus, all beauty therapists have to take care not to injure their clients. You might burn a client while straightening their hair, or cause an allergic reaction through using the wrong product.
What Insurance Do Beauty Therapists Need?
So you understand the risks of your work. What sort of insurance will help you manage these risks?
Beyond this, the type of cover you need will depend on your circumstances. If you hire any employees, for example, then you'll have a legal obligation to get employer's liability insurance. This will cover your employees for any workplace accidents and injuries.
If you work from dedicated business premises, then you'll need building insurance and business interruption insurance. These will cover you for any repairs you might need to make to your premises following fire, flood and theft, and for any loss of income you might suffer during your downtime.
Bespoke Insurance for Beauty Therapists
At Tapoly, we specialise in giving self-employed beauty therapists comprehensive cover for less. You can get tailored self-employed insurance starting at just 35p a day, with no hidden fees. Just tell us about your work and your circumstances, and we'll build an insurance package to cover your specific needs.
If you have any questions, or you'd like to discuss your options, you can contact the Tapoly team at info@tapoly.com. You can also call our helpline on +44(0)207 846 0108, or you can use our online website chat.