It sometimes feels like everyone's talking about side hustles these days. If someone's not talking about their side hustle, then they're talking about starting one.
But what is a side hustle? And how can you start a side hustle of your own?
In this post, we'll explain what a side hustle is, and tell you some essential things you'll need to know before you consider joining the hustle.
What is a Side Hustle?
Basically, a side hustle is a second job. It's something that someone does beyond their day job as a means of making some extra money. But a side hustle isn't just a nightshift behind a bar, or a weekend job in a shop. Don't think of a side hustle as a part-time job. Instead, think of a side hustle as a part-time business.
When most people talk about their side hustles, they're referring to something that they've set up themselves, that allows them to define their own goals and set their own hours.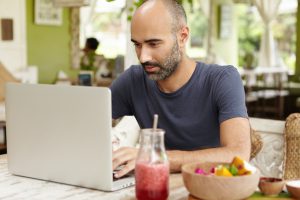 Why is it Called a Side Hustle?
Because it's a struggle, and a commitment! According to Dictionary.com, "to hustle" means "to proceed or work rapidly or energetically". It also means "to push or force one's way." This mindset is what separates a side hustle from a standard part-time job. If you work evening or weekend shifts outside of your standard work hours, your motivation will usually be to make some extra money – and nothing else.
But a "side hustle" implies ambition. The term implies that you're working towards a greater goal, pushing yourself to achieve more when you might be more tempted to just watch TV.
So why do people start side hustles?
It might be because they have more significant and ambitious financial goals, such as getting out of debt or saving for an early retirement. Or it might be because they want to develop a certain skill or road-test a certain idea.
It's likely that many hope they'll eventually be able to quit their day jobs and dedicate all their time to their side hustles. You might think of a side hustle as a stepping stone to running a full-time self-employed business.
What Do People Do as Side Hustles?
Some people do some aspect of their day job, but independently. An accountant, for example, might do some freelance bookkeeping on the side. Or a digital marketer might manage social media accounts, run online ads, or write blogs for other businesses. Professionals of all types might start offering consultancy services on the side.
If you decide to take this approach, though, be very careful that your side hustle doesn't ruffle any feathers at your day job. Beware of conflicts of interest and confidentiality clauses!
Some people learn a new skill for their side hustle. An IT specialist might start painting houses on weekends, for example. Others might try and transform their hobbies into viable businesses. An amateur photographer, for instance, might try to start a photography business as their side hustle.
For some, side hustles are a question of investing. They might invest in property, in stocks and shares, in start-ups, or even in cryptocurrency as a means of developing a passive income.
What to Know Before Your Start Your Side Hustle
Before you start a side hustle, there's a few things you should know.
You'll have to be patient. Side hustles aren't get-rich-quick schemes. You'll have to invest a lot of time and energy into your side hustle before it begins to pay off. Is it worth it? Absolutely.
Be prepared to work very hard indeed. If you struggle with self-discipline and multitasking, then you might struggle to manage your side hustle.
These things take time. You should be able to fit your side hustle around your day job and your other obligations. You can set your own hours, but you'll have to commit to enough hours in a given period to make a difference. As a result, your side hustle's much more likely to succeed if it's something that you enjoy doing!
Side hustles need to be profitable and scalable. The work you do as your side hustle should pay enough to make all those hours you put in worthwhile. And it should offer growth opportunities too, whether through more clients, increased revenues, or otherwise.
How to Start a Side Hustle
If you have an idea to make money outside your day job, and you have the energy and the commitment to make it work, then it's time to start hustling!
We have some guides that'll help you take those early steps into starting your side hustle:
Going self-employed for the first time. Think of starting a side hustle as like starting your own freelance business. This going freelance guide will talk you through the process of getting started, with advice on registering your business, on your legal and financial obligations, and with lots of links to other useful resources.
How to work out your hourly rate for freelancing. As we said above, your side hustle has to pay enough to make it worthwhile, and it must have the capacity for growth. So how much should you charge? Our essential guide to setting your hourly rate contains a formula for working out your hourly rate, with lots of information on other factors you'll need to consider to make your idea a success.
A guide to business start-up grants. Maybe you need some capital to get your idea off the ground. You might be able to find a start-up grant to help you do just that. Our guide to start up grants lists your various funding options, with links to additional resources to help you find the start-up cash you need.
Start Your Side Hustle With Total Peace of Mind!
Starting a side hustle might mean that you'll be working independently for the first time in your life. While working for yourself can be immensely rewarding and profitable, it does come with some risks. If anything goes wrong, you might be liable to cover all costs.
That's where insurance can make all the difference. No matter what form your side hustle takes, we can tailor specialist insurance cover for you for as little as 35p a day. That way, no matter what happens with your side hustle, you'll be able to rest assured that everything will be taken care of.
If you have any questions, or you'd like to discuss your options, you can contact the Tapoly team at info@tapoly.com. You can also call our helpline on +44(0)207 846 0108, or you can use our online website chat.