If you want to start a photography business, it's not enough to just have the skills and equipment.
You can't just declare yourself to be a professional photographer and expect the clients to start rolling in. There are certain legal requirements to bear in mind, including the formal process of getting yourself registered. You'll have to think about insurance, to safeguard yourself against all the risks that come from doing your own thing. And if you want to enjoy long-term success, you'll have to put a business plan together.
This is your essential guide to starting a photography business. Remember that here we can only talk about best practice. These are just hints and tips, and some things to consider. All the details are down to you.
Though if you want a bit more information about the practicalities of setting up your own business, photography or otherwise, read our guide to becoming self-employed.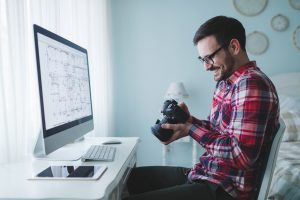 Building a Business Plan for your Photography Business
The term "business plan" might make you think of endless pages of charts and graphs. But it doesn't have to be that complicated. Think of your business plan as a mission statement. It's an opportunity to define who you are and what you do, to declare where you want to be in five years' time, and to anticipate the steps you need to take to get there.
The business plan for your photography business could contain the following:
What sort of photographer do you want to be? This will determine the sort of equipment you need, and the sort of premises you'll need to run your business. It will also help you to make decisions about pricing, marketing, and other essentials. Will you focus on portraits? In which case, you'll probably need a studio. Or maybe you'd prefer to focus on events? If so, you might have to think about specialist insurance requirements.
Who will your customers be? If you're doing portraits, your customers will be parents, families, and perhaps schools. If you're focusing on events, your customers will be wedding venues, and other corporate service providers. The better you can define who your customers are, the better you can hone your brand and your marketing to reach them.
What will your pricing models be? Different photographers charge different rates for different projects. This is why it pays to define what sort of photographer you want to be, and what sort of customers you wish to work with. That way, you can do some research into how much other photographers charge, and set your pricing models accordingly.
Do you need any credentials? Your most important asset as a photographer might be your portfolio. If you haven't yet got a decent-sized portfolio, think of ways you can build one. This might involve asking your friends and family if you can take some pictures of them, or perhaps offering to cover events at a reduced rate. But depending on the sort of photographer you wish to be, you might need more credentials beyond your portfolio. For example, if you're going to take school portraits, you might need DBS clearance.
How will your photography business grow? Will you always be doing this by yourself, or will you eventually be taking on assistants and other members of staff? Who would be your dream clients, and what would you need to accommodate their needs? It's best to have at least some idea of what direction you want your photography business to take, as it could influence a lot of the decisions you make in the early days.
Calculating the Start-Up Costs of a Photography agency
A photographer is nothing without their camera. But you'll need more than your camera to get your photography business off the ground. There are many schemes out there designed to help fledgling businesses like yours. But for best results, it's a good idea to have some idea of just how much money you'll need to start-up your business.
Let's consider some of the things that are likely to cost you in those early days:
Equipment – Beyond your camera, will you need any lighting, or screens, or backdrops? If your aim is to be an event photographer, what sort of flashes, lenses and cases will you need? And if you'll be travelling to and from events, will you need a car, or a van? Also think about software and hardware – software for processing images, and hardware for printing them. And speaking of printing, will you print images yourself, or use a third-party provider? And how do you intend to scale that part of your business?
Premises – Some photographers can work completely from home – particularly those who primarily cover events, or who take portraits on other peoples' premises. But maybe you want a studio of your own. In which case, you'll have to account for studio rental and renovation fees in your start-up costs. And once again, it pays to consider how this aspect of your business will scale. Will the studio you use today still be fit for purpose five years from now?
Marketing – As part of your business plan, you should have considered what sort of customer you want to target. This done, you need to think about how best to market to them. Initially you might be able to get by on word-of-mouth alone. But eventually you'll have to get your name out there. Your target audience will determine whether it's best to focus your efforts online or offline. But when it comes to costs, don't just think about things like printing leaflets and building websites. Also consider whether you intend to do all your marketing yourself, or whether you want to hire marketing specialists to do things for you.
Other Start-Up Costs – Most likely you intend to do things alone, at least in the early days. But if you think you'll need any help in setting up your photography business, you'll have to account for salaries when calculating your start-up costs. Running your business from home can reduce your overheads, but even then, you may have to consider business rates. Finally, you're going to need insurance. We'll take a closer look at this below.
How to Register Your Business
Registering your business is a way of making things official, ensuring that everything stays above board. You'll have to let HMRC who you are and what you do. Once they have a record of your business, they'll know exactly how much to tax you each year.
When you register your business, you can either register as a sole trader, a limited company, or a partnership. We explore what each of these mean, and how to register for each, in our complete guide to registering your business. Find it here.
How to Name Your Business
When registering your photography business, you'll have to choose a name to trade under. There are certain rules for what you can and cannot name your business. You cannot use any misleading terminology in your business name. You can only use "ltd" if you're actually a limited company, for instance. The Government guidance also stipulates that your business name must not "be offensive", and you can't use "sensitive" words or expressions.
Also, your name cannot be the same as any existing trademarks. You can't call your photography business "Kodak Pictures", for example. But you can trademark your own name, to ensure that nobody else ever uses it.
You'll need permission to use certain words in your sole-trader business name. Examples include words that suggest you're connected with government or local authorities, and words that suggest you have official accreditation. Head here for a guide to the sort of words you'll need permission to use.
How to Build Your Brand
Beyond the legalities, there are many other things to consider when naming your business. What does your name say about you, and your values?
If you always want to take pictures of people, it might be best to simply trade under your own name. This will provide the personal touch that many people look for when seeking a photographer for their wedding, or their family portrait.
On the other hand, if you eventually want to run a profitable photography studio that carries out a diverse range of photography projects, you might prefer something a little less prosaic.
Maybe you could choose a name that triggers certain thoughts and feelings. It could be something quirky, like Unicorn Photography. Or something more prestigious and professional, like Aspirational Photography. It's probably a good idea to include the word "photography" in your name, whatever the case, so that people know at a glance exactly what sort of service you offer.
Remember that there's more to your brand than your business name. Consider talking to a marketing agency about building a unique brand that works for you. They can help you hone everything, from your logo design to the colours and the font you use on your website, to strike a chord with your target audience.
Other Things You'll Need
If you run your own business, you'll have to put up with a lot of uncertainty. But that doesn't mean that you have to go without all safety nets. Affordable and flexible insurance will cover you against many eventualities, from personal injury to unavoidable interruption.
Here's the sort of insurance you'll need to consider for your photography business:
Contents insurance – So that, if you ever damage or lose any of your expensive equipment, you'll be covered for replacements.
Professional indemnity – What if your customers just aren't happy with your photos, and refuse to pay? What if someone accuses you of intellectual property infringement, or of violating their privacy? Professional indemnity insurance can cover you for many such unfortunate situations.
Public liability – If people come to your studio for a portrait, public liability will cover you for any accidents or injuries they sustain while on your premises. Similarly, if you break anything while visiting someone else's premises, public liability insurance can cover you and the client for all damages. So no matter what sort of photographer you wish to be, public liability insurance can save your skin.
Personal accident – Professional photography can be physically-demanding work. Personal accident insurance will cover you for any loss of cash-flow, should you ever be too injured or ill to work.
We offer specialist insurance cover tailored to suit the needs of self-employed people. Our cover starts at 35p a day with no hidden fees, and you can get a free quote online in minutes.