It takes a lot of money to grow a business. But whether you're looking to start a new business or grow an existing business, there's a lot of help available.
In this post, we'll explore some of the business start-up grants available, and offer tips on how you can get started in securing that essential funding for your growing business.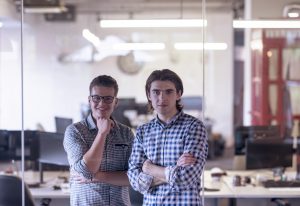 Business Start-Up Grants vs. Start-Up Loans
Start-up grants cover all of the vital costs of kickstarting a business, including hiring, training, securing premises, and investing in stock, equipment, or marketing. Start-up grants invariably have strings attached. There will be criteria you'll have to meet to qualify. But the great thing about grants is that you don't have to pay them back!
Start-up loans are different, in that you will have to pay them back. However, start-up loans will usually have generous terms and lower interest rates than other business loans. So while it's not exactly free or easy money, it's still a loan that'll be tailored to suit your needs as a growing business. Take a look at the government's Start-Up Loan scheme for an example of how this might work.
What is Equity Finance?
Another funding option for growing businesses is equity finance. This requires you to sell a share of your business in exchange for capital, a model you might be familiar with if you watch BBC's Dragon's Den. To get started with equity finance, take a look at the government's Seed Enterprise Investment Scheme (SEIS).
Which Business Start-Up Grant is Right For You?
As we suggested above, there are always strings attached when it comes to business start-up grants. This isn't just free money. Many companies offer start up grants on the basis that you'll invest an equivalent amount in your business. So they might offer you £10,000, but only if you're also able to invest £10,000 too.
There are hundreds of business start-up grants available. Some of them are specifically designed to help certain businesses operating in certain sectors. For example, the Fit For Nuclear fund is for companies that want to bid for work in the nuclear supply chain. Grants like the Do It Award are designed for social enterprises, while the Heavy Duty Vehicle Fund is there to help businesses get ready for urban Clean Air Zones.
The New Enterprise Allowance is a particularly helpful scheme in that, not only does it come with a grant, it also offers mentoring and other support to help you get your business off the ground. Read our fill guide to the New Enterprise Allowance.
How To Find a Business Start-Up Grant for Your Business
Tips For Getting a Business Start-Up Grant
Am I Eligible for a Business Start-Up Grant?
Some grants are only for certain sorts of businesses in certain sectors. If you don't qualify, then don't waste your time in applying.
Business Grant Application Tips
The grant bodies will usually make it clear just what they wish to achieve with their grant. It will rarely be anything so vague as "to help businesses grow". Sometimes, they'll talk about exactly the sort of people the want to help, and they might even make it clear exactly what results they want to see in terms of profit, job creation, sustainability, and so on.
When applying for the grant, provide a business plan that states explicitly how you're going to contribute towards these objectives.
When to Apply for a Business Grant (early!)
One thing all start-up grants have in common is fierce competition. For every grant you apply for, you have to consider that there may be hundreds, or event thousands, of other businesses applying at the same time. A strong business plan that clearly outlines how you'll help the grant bodies achieve their objectives will help. So too will applying as early as possible!
Other Essentials For Start-Up Businesses
In those critical early days, your business needs funding in order to survive and grow. But one thing your business should never do without is insurance. Insurance provides an essential safety net through thick and thin, guaranteeing that, no matter what happens, you'll be able to bounce back and continue trading.
At Tapoly, we specialise in flexible and affordable insurance for small businesses. There are no hidden fees, and you can tailor your cover to suit your specific business needs. Get in touch to get a free quote in minutes.
If you have any questions or would like to discuss your options please contact our Tapoly team at info@tapoly.com, call our help line on +44(0)2078460108 or try our chat on our website.