Like all professionals, counsellors and therapists need insurance to protect them from the various risks of the job. Let's take a look at some of the most essential insurance products for counsellors and therapists.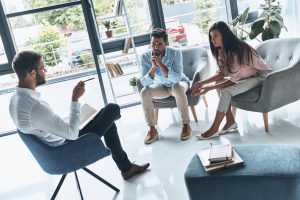 What Insurance do Counsellors and Therapists need?
The types of insurance counsellors and therapists need can be far reaching, depending on the cover you want and need. This might include medical malpractice insurance, professional indemnity insurance, employer liability and public liability insurance.
You also may want to make sure you're covered for other eventualities too such as cyber breaches, buildings and contents as well as legal expenses. We'll go through each of these individually in this post.
Medical Malpractice Insurance
You might think that, as a therapist or a counsellor, you don't need medical malpractice insurance. After all, you're never going to physically touch your patients, are you?
But the truth is that all medical professionals should get medical malpractice insurance – including counsellors and therapists.
Yes, counsellors and therapists are sometimes involved in medical malpractice claims. Not all patients will respond to your therapy or counselling. And if they, or their family, feel that your intervention's actually made things worse, or if they feel that you've breached their confidence, then they may make a claim against you.
Medical malpractice insurance will cover you for all the expenses that come with a medical malpractice charge, including inquest costs, professional indemnity claims, and even loss of documents.
Self-employed therapists and counsellors should absolutely get medical malpractice cover. If you're an employee of a hospital, a GP office, or another organisation, then your employer's insurance policy may include medical malpractice cover. However, it's still worth getting a policy of your own, as your employer's policy might not cover you for all circumstances. Find out more about medical malpractice insurance.
Other Types of Liability Cover for Therapists and Counsellors
Professional Indemnity Insurance – Think of this as a more general form of medical malpractice insurance. It's cover for any mistakes you might make in your line of work. Find out more about professional indemnity insurance.
Employer Liability Insurance – If you hire any employees, then you have a legal obligation to get employer liability insurance. This will cover you should any of your employees or ex-employees ever make a claim against you. Find out more about employer liability insurance.
Public Liability Insurance – If any members of the public ever visit your business premises, then you'll need public liability insurance. This covers you should anyone injure themselves, or damage their possessions, while they're on your premises. For counsellors and therapists, this type of cover is essential. Whether you're conducting one-on-one sessions with your clients, or group sessions for large numbers of people, members of the public will routinely visit your premises, so you should get appropriate cover. Find out more about public liability insurance.
What Sort of Insurance Do Counsellors and Therapists Need – Other Types of Cover
Cyber Breach Insurance – Patient confidentiality is a huge issue for counsellors and therapists. And if your patients feel that you've breached this confidentiality, you could be looking at a medical malpractice charge. Cyber crime is one of the single biggest threats to patient confidentiality. But cyber breach insurance will help both you and your patients respond to and recover from cyber-attacks. Head here to learn how cyber insurance works, and why you cannot do without it.
Building and Contents Insurance – If you have business premises, then building insurance will cover you for damages that arise from fire, flood, or other natural causes. Meanwhile, business interruption insurance will cover you for any loss of income you experience while waiting for repairs. Finally, contents insurance will cover you for all the tools you need to do your job, such as smartphones, laptops, and any specialist equipment you might use.
Legal Expense Insurance – This can cover you for any legal fees that you might incur in your line of work. Beyond medical malpractice and professional indemnity claims, you might have to deal with tax investigations, employment disputes, and even debt recover. Legal expense insurance can cover you for all of these situations, and more. Find out more about legal expenses insurance.
Affordable Insurance for Counsellors and Therapists
At Tapoly, we specialise in giving counsellors and therapists like you the cover you need at a price you can afford.
We'll let you tailor your cover to suit your exact needs as a counsellor or a therapist. This means you won't pay for any cover you don't need, and there are no hidden fees to worry about either. Head here to get an online quote in just one minute.
If you have any questions or would like to discuss your options please contact our Tapoly team at info@tapoly.com, call our helpline on +44(0)2078 460 108 or try our chat on our website.