Parents place a great deal of trust in child carers and nannies. That's because taking care of children in any capacity is inherently risky. So if you work in childcare, it's important to get adequate insurance cover. That way, if anything goes wrong in your line of work, you won't be personally liable for covering any costs.
In this post we'll explore some of the insurance products that child carers, nannies, babysitters, private tutors and nurses should consider.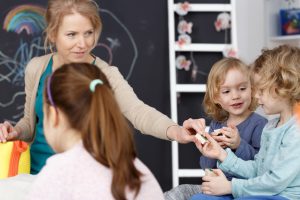 Public Liability Insurance
Ofsted and The Early Years Foundation Stage (EYFS) statutory framework outline that certain childcare providers have a legal obligation to get at least public liability insurance. So this is one form of cover that, if you work with children, you simply cannot do without.
Public liability insurance covers any accidents that take place on your premises, whether that's a nursery, a school, or any other childcare setting. This insurance can also cover accidents that take place on a client's premises, meaning it can also cover visiting nannies, babysitters, or other carers.
Anyone who's worked with children knows how common accidents can be. Public liability insurance can cover you for almost any accident, from a small trip in a playground to something more serious.
For more information about what public liability insurance is, and what it covers, head here.
Professional Indemnity Insurance
If something goes wrong on your watch, an angry parent might accuse you of negligence. For example, a child in your care might injure themselves while your back's turned. In this case, the child's parents might claim that you neglected your duty of care in leaving the child unsupervised – if only for a moment.
Professional indemnity insurance can cover you for charges of negligence, and for many other mistakes you might make in your line of work. It can cover your legal fees along with any compensation the child and the parent might be due.
For more information about professional indemnity insurance, and what it covers, head here.
Employer's Liability Cover
This is another form of cover that's required by law. If you employ people to work for you, then you have a legal obligation to get employer's liability insurance.
While public liability and professional indemnity insurance will cover the children under your care, employer's liability insurance will cover your employees for accidents and injuries they might sustain on the job.
If you run a nursery, a day care centre, or any other organisation that provides childcare facilities, there will be parts of your building that are off-limits to children, such as kitchens and storerooms. Employer's liability cover will cover you if your employees should trip, fall, or otherwise injure themselves while working in these potentially hazardous environments.
For more information about what employer's liability insurance is, and what it covers, head here.
Medical Malpractice Cover
Anyone that provides healthcare or ancillary services to patients of any age should consider medical malpractice cover.
Maternity and nursery nurses should consider medical malpractice cover as a matter of course. In your line of work, you may have to administer basic first aid to children. In emergency situations you might also have to provide more substantial and elaborate medical services. Medical malpractice can cover you for any further upset, injuries or anguish that might result from your intervention.
A good medical malpractice policy can also cover for "Good Samaritan Acts." In an emergency situation – if a child starts choking, for example – then the nearest adult will want to intervene, as there might not be enough time to summon a trained professional.
Of course, if anything goes wrong as a result of this intervention, no matter what the carer's intentions were, it can result in a legal nightmare. It's here where medical malpractice insurance can provide essential cover for legal expenses and compensation.
For more information about medical malpractice insurance, and what it covers, head here.
Comprehensive Insurance Cover for Child Carers, Nannies, Babysitters and More
Whether you run a childcare centre or you're a freelance self-employed nanny, we can tailor a bespoke insurance policy to cover all your needs as a childcare provider. You'll only pay for the cover you need, with no hidden costs. Head here to get a free quote online in minutes.
If you have any questions, or if you'd like to discuss your options, contact the Tapoly team at info@tapoly.com. You can also call our help line on +44 (0) 207 846 0108, or use our online chat.