If you work in healthcare, you might have heard of medical malpractice insurance. But you may be wondering – do you need it? And how much might it cost?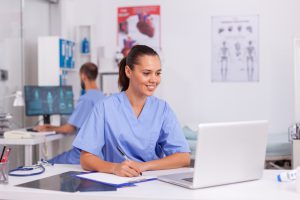 What is Medical Malpractice Insurance?
Medical malpractice insurance covers healthcare workers for damages or claim expenses that may arise as a result of physical injury, death, mental anguish, disease, disability, sickness and shock of a patient. It's a type of errors and omission insurance.
Most medical malpractice insurance policies include professional indemnity cover, to cover for any financial loss caused to third parties by a negligent act during the provision of your care services. A comprehensive medical malpractice policy might also include public liability cover, and cover for loss of documents, breach of confidentiality, libel, slander, and inquest costs.
Finally, a medical malpractice policy may include cover for "Good Samaritan" acts. This is where you assist an individual who might not be under your direct care and who wouldn't, as a result, be covered by your standard insurance policy.
Who Needs Medical Malpractice Insurance?
Anyone who provides any form of healthcare or ancillary services to patients should consider getting medical malpractice insurance. This could include healthcare providers like doctors, nurses, carers, pharmacists, dentists, chiropractors, opticians, physical therapists – or anyone who provides any form of healthcare services.
Do I Need To Get My Own Medical Malpractice Insurance?
Depending on your circumstances, your employer might already have a medical malpractice insurance policy that'll cover you for as long as you work for them. However, there are some circumstances where it might be worth getting your own policy on top of your employers' group policy.
There are two main types of medical malpractice insurance policies: Occurrence policies and claims-made policies. If your employer has an occurrence policy, then it essentially means that they'll cover you for claims of medical malpractice no matter how much time has passed since the incident. Crucially, this means you'll still be covered even if you've long since left this employer.
However, if your employer has claims-made policy, then it means they're only covered for events that occur, and that are reported, during the period they hold the policy. So if you retire or you leave the employer, but someone makes a claim against you for an incident that occurred during your time at this company, then you could be personally accountable for this claim. In this case, your own medical malpractice insurance policy would prove invaluable.
So talk to your employer, and check what sort of policy they have. Look out for other gaps in their policy that might require you to get your own policy. For example, their policy might only cover you for certain acts, or for certain working hours. If you want full cover for all situations, you might need your own policy.
How Much Does Medical Malpractice Insurance Cost?
The amount you pay for your medical malpractice insurance will vary depending on the type of work you do, the likelihood that a claim will be made against you, and the potential size of a claim. You can usually set a liability limit, which can also affect the price of your policy.
So how much does medical malpractice insurance cost? Unfortunately there's no straightforward answer to this. It all depends on who you are and what you do. But for a general idea, at Tapoly our cover starts from £78 a year, with no hidden fees.
Head here to learn more about medical malpractice insurance, what it covers, and what it doesn't cover. Then, to see how much you might expect to pay for your cover, head here to get a free quote in minutes.
If you have any questions or would like to discuss your options please contact our Tapoly team at info@tapoly.com, call our help line on +44(0)2078460108 or try our chat on our website.