Whether you are a self-employed chef, a freelance bartender, have a contract as a kitchen porter or run your own restaurant, you'll need to have insurance in place to cover the work you do. It's important that you protect not just yourself, but those around you too. This includes customers, suppliers and any staff you employ.
But with all the different types of insurance on offer, how do you work out what you need? Equally, how do you make sure you only buy what you need and don't pay for unnecessary cover?
Let's have a quick walk through of the different types of insurance on offer and what they cover so you can be confident that you're getting the right protection to fit your particular set of risks.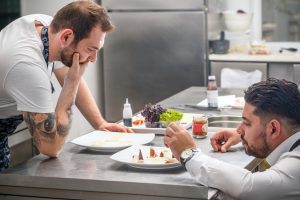 Insurance for the Hospitality Industry
Here are the main types of insurance that are suited to hospitality workers.
Public Liability Insurance – if you come into contact with members of the public, whether that's food suppliers or paying customers in your pub or restaurant, you should take out Public Liability Insurance. This protects you if you accidentally hurt a member of the public or damage something that belongs to them. For example, if you spill a bottle of red wine down their white coat, public liability will pay for the damage, any compensation and legal costs you have to pay.
Product Liabiity – this covers you if a meal you prepare causes someone to get ill. If you unintentionally serve food that has gone off or contains a foreign body, Product Liability will cover your legal fees.
Employer's Liability Insurance – if you run your own small business, such as a coffee shop, café or restaurant, and employ staff, you must have Employer's Liability Insurance. It's the law. This applies even if you only use casual or temporary workers. This covers any claims from employees who are injured or become seriously ill during the course of their work for you.
Professional Indemnity Insurance – however much of a perfectionist you are, mistakes do happen. If a customer brings a complaint against you about a meal you've prepared that they believe is wrong, you may have to defend yourself. Even if you don't think a mistake has been made, there may be legal costs to pay and a Professional Indemnity policy would cover these and help protect your reputation.
Business Interruption Insurance – if a fire in your kitchen closes your business for a period of time, you could lose a significant amount of income. Business Interruption Insurance will cover this lost income due to downtime and put your business back in the same position as if the fire hadn't happened in the first place.
Equipment Insurance – while your skills and experience are crucial to how well you perform your job, you need the right tools and specialist equipment. Equipment (or contents) Insurance will protect your key equipment against failure, loss or damage so that you can arrange replacements quickly and minimise any disruption.
Talk to Tapoly
If you need insurance for your hospitality business, why not get in touch with Tapoly? Just give us a few details and we'll get a quote for you. No hassle, no fuss, just the insurance you need at a price you can afford.