If you're a self-employed freelancer or contractor, or if you're running a small business, then establishing good relationships with your clients is key to your long-term success. And few things are more effective at kindling good relationships than a sincere note of gratitude.
There are some obvious benefits to thanking clients and customers for their business. It will show that you value them, and that they're more than just another transaction for you. This might make them more likely to work with you again. It might also make them more likely to recommend you to their friends, family, and colleagues.
In this post, we'll explore some effective ways you can thank your clients for their business.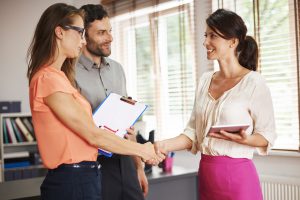 What Makes a Good Thank You Letter or Notes For Your Clients?
Coming from a business, a freelancer, or a contractor, a good thank you is:
Genuine. If you're going to thank your customers, you need to mean it! Customers will be able to tell if you're not being sincere. They may see a half-hearted thank you as a cynical marketing ploy, which could do more harm than good.
Concise. You're really busy, and so are your customers. So respect their time, and keep your thank you messages short and direct.
Timely. Don't bombard your clients with endless thank you messages, or they'll soon become irrelevant. But a note of thanks at certain key points could really make a difference. We'll take a closer look at the best times to thank your clients below.
Proactive. But not opportunistic! Don't use your thank you messages to advertise your products and services. But you could use this as an opportunity to request feedback, which could help you further improve your customer experience.
When Should I Thank My Clients For Their Business?
After purchase. Thank clients for their business after they've purchased one of your products. Or if you offer services, thank them once you've completed the agreed work. And don't just thank new clients and customers. Thank your regulars too, and you can continue to build a good relationship.
After a set period of time. Thanking clients seemingly out of the blue can really make them feel valued. You could send thank you messages as a matter of course once or twice a year – maybe every six or 12 months following their initial purchase.
On key dates. Do you know your clients' birthdays? Send them a birthday wish to show that you're really thinking about them. You might also issue thank you messages at certain times of year, such as during the Christmas period.
Good Methods For Thanking Your Clients
Let's take a look at a few different ways you can thank your clients, and the pros and cons of each.
Thank You Emails
The fastest method of thanking clients, and perhaps the most convenient too, as you can easily automate the process. Plus, you can link directly to your website or social media platforms from email, or to online survey sites – which is useful if you want your customers to take further action.
However, it's possible that your emails won't get through, as your clients' email platforms might class your messages as spam. And as most of us get too many emails anyway, your clients might automatically delete your email, thinking it's just another marketing message.
Appreciation Text or Phone Call
Send your clients a text message with a simple thank you note. Or give them a call so you can thank them personally.
This sort of thank you might feel the most personable. It could feel like you're simply an individual reaching out to another individual with a heartfelt message of thanks, which is a great way to show your clients that you value them.
However, some clients might be wary of your text or phone call. They just may find it slightly intrusive. Or they may find themselves thinking: "What are they trying to sell me here." But if you keep it short, sweet, and sincere, it should have the desired effect.
Thank You Notes or Letters For Clients
The most time-consuming method of thanking a client, but perhaps also the most impactful. How many of us still send physical "snail mail"? So if you take the time to do it, your clients may feel genuinely flattered – touched, even.
If you've got good, clean, legible handwriting, you could even try writing your letter by hand, for extra impact.
How To Thank a Client For Their Business
So you've thought about when you might thank your clients, and you've thought about the format you're going to use. Now comes the tricky part. What should you actually say?
It all depends on who you are, what you do, and what exactly you're thanking your client for. It also depends on whether you want your client to take any further action following your message.
Here are some essential things you might want to include:
Greeting your client by name. Make sure you spell their name right!
A clear summary of why you're getting in touch. Why are you sending this message? What are you grateful for? This will help differentiate the message from a more generic sales message.
Build on this summary. What exactly did you value in working with this client? What have you been able to achieve since working with this client? (e.g., "Thank you for the feedback, it's really helped us shape who we are and what we do as a business…")
Repeat your gratitude. (e.g., "Thank you for choosing to work with us…")
Sign off with your name. Depending on your relationship with the client, you might close with an informal "cheers", or a more formal "kind regards".
Other Things To Think About In Your Thank You
Link to a survey. You might use you thank you message as an opportunity to gather feedback. This in itself will help you to grow. But it also provides a further touchpoint for building your relationship – once they've shared their feedback, you can send yet another heartfelt thank you!
Offer a gift. A thank you message is not a sales opportunity. Never use your thank you to upsell a product, or even to link to a special offer. But as a token of gratitude, you could share a voucher (for your products or services, or for a site like Amazon), or you could even offer a freebie. Remember, it's all about building relationships.
Cement your future relationship. There's a certain air of finality about some thank you messages, particularly if you send them after a sale, or at the end of a project. So you might talk generally about your future working relationship. For example, "I hope we can work together again soon. Please don't hesitate to get in touch if there's anything you'd like to talk about."
Further Support For Freelancers
No matter who you are or what you do, you'll find loads of helpful resources on our site:
At Tapoly, we also specialise in providing comprehensive and affordable insurance for freelancers. Our flexible tailored cover starts at just 50p a day, and you can get a free quote online in minutes.