A contract is a legal agreement between two parties. They essentially make it clear just what's expected from both parties and ensure that no party can back out of the agreement without incurring a penalty.
Contracts are commonplace in most, if not all, business arrangements. But if you're newly self-employed, you might be wondering – do I need a freelance contract?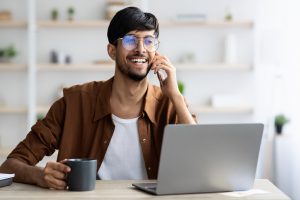 What is a Freelance Contract?
A freelance contract is just like any other business contract, in that it's a signed legal agreement between you and your clients. Most freelancers work with multiple clients, so you'll draw up a separate contract for every individual client.
We'll explain below the sort of things you should include in your freelance contract. But in short, you'll use your contract to put down, in writing, exactly what work you'll do for the client, and the timeframe in which you'll do this work. You'll also have it in writing exactly how much the client will pay you, and when.
Do I Need a Freelance Contract?
A freelance contract can help you ensure you get paid by your clients, and that you get paid on time. A freelance contract gives you legally binding protection against clients who, for whatever reason, don't pay their invoices.
This is particularly important, as one of the biggest headaches for a self-employed worker is the client who fails to pay their invoice. Not only is this frustrating, it can also affect your cashflow, putting your financial security at risk.
Contracts provide extra protection, too. If the client is in some way dissatisfied with your work, they may refuse to pay, or they may even threaten to take legal action against you. But with a freelance contract, you'll have your initial agreement in writing, and signed by both parties. This can make it much easier to clear up any disagreements and resolve any conflicts.
Issuing your clients with a contract may also send the message that you're an experienced professional who knows what they're doing. This might inspire your clients with confidence, which may make them more willing to work with you. Indeed, you may find that certain larger and more lucrative clients refuse to work without a contract in place.
What To Include in Your Freelance Contract
Here are some essential clauses you should include in your freelance contract:
A description of work and services
Payment details
Exclusivity
Revisions
Termination
Signatures
We've explored these in more detail here:
A description of work and services. Including a start and end date of the contract, and a deadline by which all work will be completed. Also include a scope of service, a detailed description of the project, and what it will involve. Be as specific as you can, otherwise the client may increase the scope of the work without necessarily increasing their budget.
Payment details – Define your fee, whether that's a fixed price or an hourly rate. Specify when the client should pay you – whether that's on delivery, or on a given date. You can also get specific about things like expenses, material costs, deposits, and late payment fees.
Exclusivity – Many freelancers tend to work with multiple clients from the same sector. It's common to find exclusivity clauses in some employment contracts, outlining limits to the sort of work you can do for third parties for the duration of the contract. But you can put a clause in your contract that permits you to work for third parties, even if they're in the same sector as the client, or in direct competition with them. This clause might specify how you'll handle potential conflicts of interest.
Revisions – Add clauses detailing what will happen if the scope of the project expands. This way, if the client wants to take up more of your time than you contractually agreed, you can ensure you're fairly reimbursed for your efforts.
Termination – Sometimes, things just don't work out. So put a clause in your contract outlining your grounds for termination, and how both parties will meet the costs that this might incur.
Signatures – Finally, add a declaration at the end of your contract, with room for you and the client to sign and date it.
This list is by no means exhaustive! There are other clauses you might want to include depending on the nature of the work, including non-disclosure clauses, and indemnity clauses.
To get a head start in putting your freelance contract together, freelancing expert Ryan Robinson has nine template contracts available for free on his website.
What Other Protection Will I Need as a Freelancer?
A freelance contract provides essential protection through ensuring that everything you agree with your client is legally binding.
But if a client breaches a contract, you may have to take legal action against them. And if a client feels that you breached a contract, they may take legal action against you.
This is where insurance can make a huge difference. Legal Expense Insurance can cover all your fees if you have to take your client to court – or defend yourself in court. And Professional Indemnity Insurance can give you all the cover you need when faced with unhappy clients.
At Tapoly, we specialise in providing comprehensive and affordable insurance for freelancers. Our flexible tailored cover starts at just 50p a day, and you can get a free quote online in minutes. Head here for more information.