The financial services sector, which includes insurers and insurance brokers, is mainly regulated by two bodies: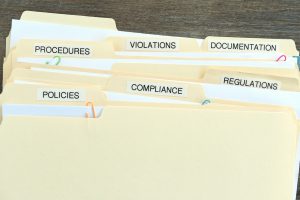 What Does the Financial Conduct Authority (FCA) Do?
The FCA regulates financial service firms and financial markets in the UK. Their regulations are designed to ensure that financial markets are "honest, fair and effective so consumers get a fair deal." Insurance firms and individual insurance brokers must be authorised or registered by the FCA before they carry out certain activities.
As part of their authorisation process, firms and individuals must demonstrate how they meet the FCA's requirements.
The FCA will then supervise these firms on an ongoing basis to ensure they continue to meet their regulations. And if any firm or individual fails to meet their standards, the FCA can issue a number of fines and enforcements.
What Does the Prudential Regulatory Authority (PRA) Do?
Like the FCA, the PRA creates policies for firms and individuals to follow, while carrying out ongoing supervision to ensure that firms continue to follow their regulations. The PRA also "tests" firms to see how they'd respond to unexpected events. They then work with these firms to develop strategies that will help the entire financial sector better respond to crisis situations.
Like with the FCA, insurers and insurance brokers must register with the PRA before they can carry out certain activities.
Who Else Regulates Insurance Brokers?
A few more bodies play a part in regulating the insurance sector:
The Association of British Insurers (ABI) – They work closely with both the PRA and the FCA to ensure the UK's regulatory framework supports both insurers and their customers.
The Information Commissioner's Office (ICO) – An independent authority dedicated to improving information rights practices. For example, they were responsible for overseeing the implementation of General Data Protection Regulation (GDPR) in 2018.
Financial Ombudsman Service (FOS) – If a disagreement between a consumer and a financial services firm cannot be resolved, the FOS works as an independent mediator between the consumer and the firm.
How Do I Register To Become an Insurer?
If you want to set up an insurance firm, or work as an independent insurance broker, you'll have to register with both the FCA and the PRA. Usually, prospective insurers will apply to both regulatory bodies at the same time. Each body will decide independently on whether to authorise you.
Usually, the PRA has the last word on this. However, they will not register you as an insurer without the FCA's consent.
You can read the PRA's guide to the application process.
We also have a couple of detailed guides on our site:
As an MGA, we offer bespoke insurance software solutions for insurance companies of all sizes. Our software as service (SAAS) can include both tailored brokerage and end-to-end fulfilment solutions.
Head here to learn how our award-winning SAAS helps insurers, brokers, MGAs, agents and program providers.
If you have any questions, or you'd like to discuss your options, you can contact the Tapoly team at info@tapoly.com, call our info line on +44(0)207 846 0180, or use the chat box on our website.