Working as an esthetician requires a lot of skill and a lot of training. It's by no means easy work, but it can be immensely rewarding, and very well paid!
This is your essential guide to starting a career as an esthetician. As well as covering the qualifications you'll need, we'll also look at some of the other things you'll have to think about – including finances and insurance.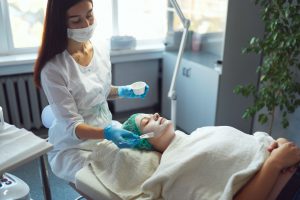 What is an Esthetician?
An esthetician is basically an expert in skincare. They usually work in a spa or salon setting, and they use various techniques, including exfoliation, facials, massages, and waxing, to address minor skin conditions including age spots, wrinkles, and dry or oily skin.
An esthetician might also give a client a makeover. They might provide aromatherapy services, and they might advise on an ongoing skincare routine.
Can an Esthetician give botox injections?
No. However, while an esthetician might not be qualified to give a Botox injection, they can prepare a client for a procedure, and provide some aftercare later on.
Head here to read our full guide to who can give Botox and filler injections.
What's The Difference Between and Esthetician and an Aesthetician?
Estheticians usually work in salons and spas, and they improve their clients' mental wellbeing by making them look and feel relaxed, refreshed and rejuvenated. The work of an aesthetician, on the other hand, is a lot more clinical. They might work in hospitals, clinics, and health centres to help people recover from more serious skin conditions, including burns, scars, and injuries.
An aesthetician might use advanced skin rejuvenation techniques including skin resurfacing, laser peels, and sclerotherapy. They might even be qualified to perform permanent or semi-permanent treatments including Botox and filler injections.
As they work in a clinical setting providing potentially-permanent treatments, an aesthetician requires a lot more training and qualifications than an esthetician. But that's not to say that estheticians don't require a lot of training themselves!
Laws and Regulations For Estheticians in the UK
You are not legally required to get any qualifications for performing non-surgical cosmetic treatments.
Some organisations, such as the Royal College of Surgeons and The General Medical Council, outline professional standards for cosmetic practice. But these are just guidelines. They're not laws or regulations, and practitioners can only abide by them voluntarily.
However, you should still get professional training and accredited qualifications before you start working as an esthetician. Here's a few reasons why:
The more training you get, the more treatments you can offer. Plus, you'll be able to offer these services at a higher standard. This will help you to attract and retain customers in what can be a very competitive market.
Qualifications will prove invaluable when you're just starting out as an esthetician. When you can't share reviews, testimonials, and case studies – and when there's no word-of-mouth to recommend you – your qualifications will prove to potential customers that you know what you're doing.
You'll need qualifications if you want to find work as an esthetician in a spa or salon. Employers probably won't even consider you unless you're in some way qualified!
Many esthetician services can be dangerous. With sufficient training, you'll know how to offer these services as safely as possible. You'll avoid harming your customers, and you'll also avoid costly fines and settlements.
What Qualifications Should You Get to Become an Esthetician?
Many colleges and beauty schools offer courses for estheticians. As there are no regulations, it's likely that these courses will differ depending on where you look. Some courses might last longer and cost more than others. And different courses might focus on different treatments.
So make sure you shop around to find a course that works for you. Read as many reviews as you can, and don't just go for the cheapest option, as there's no guarantee that this will give you the training you need.
If you're wondering where to start, take a look at some of the Skincare courses listed on Reed.
Getting Started as an Esthetician
Once you have your qualification, there are two ways you can start working as an esthetician:
Get a job at a salon, a spa, or another health and wellbeing setting.
Set up yourself as an independent esthetician.
With option one, you might become an employee at a salon or spa or you might be an 'associate consultant' which is separate from the spa. It's important to understand the set up and what it means for your responsibilities, especially when it comes to insurance.
Option two is more challenging as you'll have many more responsibilities. But in the long-term, it'll be a lot more rewarding, and you'll potentially make a lot more money!
If you are going independent, it's a good idea to register with an organisation like Save Face. As well as offering consumer advice, they keep a register of qualified practitioners across the UK. So if they accredit you, they'll help you to connect with customers! Head here for more information about Save Face accreditation.
How to Become an Esthetician – Other Things To Think About
If you decide to set yourself up as an independent esthetician, then you're essentially going to be setting up your own business. This will bring a lot of fresh challenges, but you'll find plenty of guides on our site to help you get started.
You'll eventually have to register your esthetician business. This means telling the government who you are, what you do, and how your business is structured. That way, the government will know how much to tax you.
You can either register as a sole trader, a limited company, or a partnership. We have a guide to how each of these different arrangements works, which also talks you through the legal process for setting up your business.
At this point you'll also have to choose a name for your esthetician business. There are certain restrictions when it comes to naming your business. You can read the restrictions in full on the government's website.
Once you've registered your esthetician business, you'll take on additional tax responsibilities. These include keeping detailed financial records and submitting a tax return once a year. If you're worried about doing this yourself, consider hiring an accountant to help you.
Finally, consider opening a business bank account. You can read our guide to business bank accounts and the benefits they offer.
Insurance For Beauticians and Estheticians
Even non-surgical cosmetic processes can be risky. The wrong product could cause an allergic reaction. And a slip of the wrist when you're performing a delicate procedure, such as threading eyebrows, can lead to a serious injury.
This is why it's vital that all estheticians get adequate insurance cover.
Here are the types of insurance you should consider:
Professional Indemnity Insurance. This covers you for any mistakes you might make in your work. If you advise a client on a course of treatment, for example, and they're unhappy with the results, they might make a claim against you. In this case, professional indemnity insurance can cover any legal fees. Learn more about professional indemnity insurance.
Treatment Liability Insurance. If you accidentally harm a client during a procedure – either through using the wrong product, or just through making a mistake – they might be entitled to compensation. Treatment liability insurance can cover your legal fees, as well as any damages the customer might be due. Learn more about treatment liability insurance.
Contents Insurance. As an esthetician you'll work with lots of advanced equipment, as well as lots of specialist beauty products. None of this will come cheap, so you'll need contents insurance to cover you for loss, damage, or theft. Learn more about contents insurance.
We offer specialist insurance cover tailored to suit the needs of self-employed contractors and small business owners. Our cover starts at 35p a day with no hidden fees, and you can get a free quote online in minutes.
If you have any questions or would like to discuss your options please contact the Tapoly team at info@tapoly.com, call our help line on +44(0)207 846 0108 or try our chat on our website.