If you want to set up your own insurance company, then you need approval from the Financial Conduct Authority (FCA).
This post is an essential guide to registering with the FCA to become an FCA approved insurer.
Just bear in mind that we're only covering the basics here. We won't go into detail about the specific regulations you need to satisfy. Instead, we'll outline what you need to do, when you need to do it, and how to do it.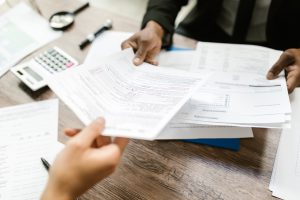 Do I Need to Be FCA Approved?
If you want to work in insurance in any capacity, then you must be FCA approved. Anyone who wants to sell, arrange, or even advise on insurance must meet the stringent regulations as outlined by the FCA.
The insurance industry is one of the most heavily regulated industries in the world – and with good reason. Insurance companies take on a lot of risk, and clients entrust insurance agencies with their money, their property, their livelihood, and even their lives.
Even if you're already registered with the FCA as an insurance intermediary, you'll have to start a completely new authorisation process to set up your own insurance business.
How to Register and Become an FCA Approved Insurer
First, take the time to read the FCA handbook to familiarise yourself with the regulations you'll have to satisfy to become FCA approved. After this, you can apply for your FCA licence online.
But applying for your FCA licence isn't an automated process. Before you get authorisation, you'll have a number of meetings with the FCA to ensure that you have everything you need to meet their regulations. You'll have to submit certain documents, including your business plan and your capital management strategy.
After this, the FCA will advise you on your next steps in writing.
How Long Does it Take to Get FCA Approval?
The pre-application process will last as long as it takes you to gather all the necessary documents, and to satisfy the FCA that everything's in order for you to become an insurer. But the FCA usually advises on your next steps within 10 working days following your initial meeting.
Once you've completed your application, you should get a response from the FCA within six months.
How Much Does FCA Registration Cost?
The total application fee for a new insurer authorisation is £25,000.
What Else Do You Need to Set Up an Insurance Company?
The FCA isn't the only regulatory body you need to satisfy if you want to register as an insurer. You also need to meet the regulations as set out by the Bank of England's Prudential Regulation Authority (PRA).
New insurers usually apply to both regulatory bodies at the same time. So during your application process, you'll be meeting with, and submitting documents to, both the FCA and the PRA.
Each body will decide independently on whether to authorise you as an insurer. The PRA has the last word on this, but they won't grant you authority without FCA consent.
The PRA has this detailed guide to the application process for new insurers.
We also have a comprehensive guide to starting a new insurance company.
Further Support for New Insurance Businesses
We have a few guides on our site to help you with some of other aspects of establishing a new insurance business:
As an MGA, we also offer bespoke insurance software solutions for insurance companies of all sizes. Our software as service (SAAS) can include both tailored brokerage and end-to-end fulfilment solutions.
Head here to learn how our award-winning SAAS makes life easier for insurers, brokers, MGAs, agents and program providers.
If you have any questions, or you'd like to discuss your options, you can contact the Tapoly team at info@tapoly.com, call our info line on +44(0)207 846 0180, or use the chat box on our website.