An insurance intermediary acts as a bridge between insurers and their clients. Some intermediaries work with insurers, whereas others work with their clients. In most cases, though, they work to match the right insurer with the right consumer. They ensure that consumers get all the cover they need at a price they can afford, and that insurers don't take on any unnecessary risk.
In this post we'll look at the various different types of insurance intermediaries that exist, to provide an essential understanding of how the world of insurance works.
And if you're considering a career as an insurance intermediary, this guide may help you decide which role is for you. Also be sure to take a look at our award winning insurance software for insurers, brokers, agents, MGAs and program providers.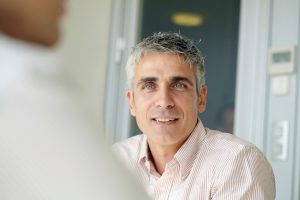 What is an Insurance Intermediary?
Insurance is rarely an off-the-shelf product. Different people will pay different premiums based on their individual risk profile. The insurer is concerned with risk, and the consumer is concerned with getting the cover they need at a fair price. An insurance intermediary works as a bridge between insurers and consumers to ensure that everyone's happy.
Different Types of Insurance Intermediaries
There are a few different types of insurance intermediaries:
Agents
Brokers
Surveyors
Administrators
Some of these will work alongside the client, whereas others will work alongside the insurer.
Let's take a look at what each of these roles might involve, in turn.
What is an Insurance Agent?
Insurance agents work to solicit and procure business for insurance companies. This might involve selling new policies to new customers or renewing policies for existing customers. Their work benefits both the consumer and the insurer. They'll help ensure the consumer is not underinsured, and that they don't pay too much for cover they don't need. But they'll also help ensure the insurer doesn't take on any unnecessary risk.
What is an Insurance Broker?
Insurance brokers usually represent consumers. They'll take the time to understand their clients' needs, then liaise with multiple insurance companies to find them exactly the level of cover they need, at a fair price.
If both brokers and insurers engage with clients to sell them cover, then what's the difference?
The key difference between agents and brokers is that agents are only permitted to represent one insurance company within a sector. Brokers, though, can represent multiple insurers.
What is a Surveyor?
Some insurance claims involve covering the costs associated with damage, such as claims concerning fire, flood, and theft. In these claims, the insurer will hire a surveyor to assess the extent of the damage. After this, they'll determine how much the insurer should pay out to the insured.
Surveyors are usually independent, impartial third parties. They're not there to reduce the amount the insurer has to pay, but nor are they there to ensure the consumer gets the biggest possible settlement. They're there to ensure the outcome is fair to both parties – that the consumer gets exactly the settlement they're entitled to, and that the insurer isn't paying out more than is necessary.
What is a Third-Party Administrator?
Insurance companies often hire third-party administrators to manage certain time-consuming tasks, including:
Claims processing
Operational administration
Marketing
Underwriting
Actuarial services
Some third-party administrators may take on more specialised roles. As part of a business health insurance plan, for example, the third-party administrator might liaise directly with healthcare providers to ensure the insured gets the treatment they need. And they might manage paperwork and process hospital bills, to ensure there are no delays in treatment or settlements.
Considering a Career as an Insurance Intermediary?
We put together a comprehensive guide to starting your own insurance company. It includes all the qualifications you'll need, as well as some of the specialised roles you may be able to undertake – such as that of an intermediary.
We also offer bespoke insurance software solutions for insurance companies of all sizes, including tailored brokerage and end-to-end fulfilment software.
Head here to learn how our award-winning SAAS makes life easier for insurers, brokers, MGAs, agents and program providers.
If you have any questions, or you'd like to discuss your options, you can contact the Tapoly team at info@tapoly.com, call our info line on +44(0)207 846 0180, or use the chat box on our website.