If you're a beauty therapist, you can grow your client base and make substantially more money through offering various special beauty treatments.
In this post we'll take a brief look at the sort of qualifications you might need if you want to start offering thread lifts, liposuction, hair implants, Botox, and fillers.
But remember – any specialist treatment you offer will bring new risks. You'll need dedicated treatment risk insurance to keep you, your clients, and your business as safe as possible. Read our full guide to bespoke insurance for beauty therapists.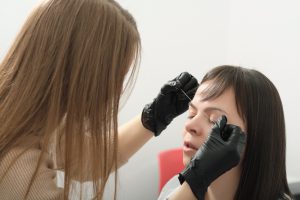 Thread Lifts
What is a Thread Lift?
A thread lift is like a non-surgical facelift, designed to improve skin elasticity and reduce the signs of aging. There are a few different types of thread lifts, including Silhouette Soft Thread Lifts, PLA and PDO Thread Lifts. With these last two, PLA and PDO refer to the different types of threads that are used in the procedure.
Though a thread lift is a "minimally invasive" process, it's still a medical procedure requiring the application of local anaesthetic before treatment can begin.
Who Can Perform Thread Lifts?
Thread lifts are performed by qualified nurses, and any clinic that provides them is required to be registered by The Care Quality Commission. Some beauty and cosmetic skills offer dedicated thread lift training courses. But these are generally only available to people who have qualified as aestheticians or nurses. Read our full guide to becoming an aesthetician.
Liposuction
What is Liposuction?
Liposuction is a cosmetic procedure that involves using suction tubes to remove unwanted body fat from certain areas of the body.
Beauticians can charge up to £6,000 for a single liposuction treatment. However, liposuction is a highly invasive medical procedure that involves the use of general anaesthetic, surgical incisions, specialist equipment and techniques, and surgical stitches following the procedure.
Who Can Perform Liposuction?
As such, only people who have already qualified as surgeons may take dedicated liposuction training courses. Also, any clinic that provides liposuction procedures is required by law to be registered by The Care Quality Commission.
Hair Implants
What are Hair Implants?
Hair implants, sometimes referred to as hair restoration surgery, or biofibre, involves implanting hair fibres into a patient's scalp, to help them overcome the effects of hair loss. There are two main procedures for this: Follicular Unit Extraction (FUE) and Follicular Unit Transplant (FUT).
Once again, these is a highly technical procedures that involves the use of general anaesthetic along with specialist tools and techniques, and a great deal of skill.
Who Can Perform Hair Implants?
One training provider only offers their dedicated hair implant courses to healthcare professionals who are already trained to Level 6 in a medical degree. And once again, any clinic that provides hair implant procedures is required by law to be registered by The Care Quality Commission.
Botox and Fillers
What are Botox and Fillers?
Botox and fillers are used to either relax the muscles in the face, or to add volume to certain areas of the face, in order to smooth wrinkles or reduce sagging.
Who Can Perform Botos and Fillers?
Many colleges and training providers offer specialist courses for administering Botox injections and fillers. Ideally, you should aim for a Level 7 Diploma in Clinical Aesthetic Injectable Therapies. You may have to take some foundational courses before you can take this course.
You can read our full guide to the qualifications you'll need to provide Botox and filler treatments.
Looking to Become an Aesthetician in the UK?
As we've seen, if you want to provide any form of specialist cosmetic treatment in the UK, you'll first have to obtain the relevant qualifications. And usually, you'll have to register with at least one professional body, too. But such cosmetic treatments are invariably in high demand, and customers are willing to pay quite a price to fight the signs of aging.
Beyond your training and qualifications, if you want to practice as an aesthetician in the UK, you'll also need somewhere to practice. On top of this, there are numerous steps you need to take to legally register your business. Read our full guide to becoming a specialist beautician.
Specialist Insurance for Beauticians
One last thing to remember: Any treatment you provide as an aesthetician will come with certain risks. So whether you're an independent aesthetician or you're working for someone else, it's vital that you get adequate insurance cover.
We offer specialist insurance cover tailored to suit the needs of self-employed freelancers and small business owners.
If you have any questions or would like to discuss your options, please contact the Tapoly team at info@tapoly.com, call our helpline on
+44(0)2078 460 108 or use the chat on our website.