If your business doesn't currently have cyber insurance, you should aim to get cover as soon as possible. Cyber insurance may soon become one of the most indispensable insurance products for all businesses.
Under the government's Covid-19 lockdown, many businesses shifted to online working patterns. As the government eases lockdown restrictions, most UK workers will eventually return to the office.
But many workers will want to continue to work from home, so a lot of UK businesses will have to adapt to a remote working system. Working from home offers both businesses and employees many advantages and disadvantages. And one major disadvantage: The more employees you have working online, the more vulnerable your business is to cyber-crime.
All businesses should consider cyber insurance. But this type of cover is particularly invaluable for businesses that are switching to a remote working system.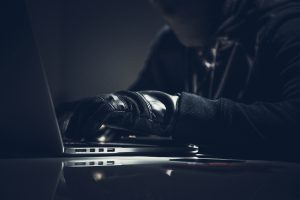 What is Cyber Insurance?
Essentially, cyber insurance protects your business online. If your system gets hacked, or you suffer a data breach, cyber insurance will cover the cost of getting your website and your systems back up and running. Some criminals even took advantage of the fear and confusion that surrounded the Covid-19 outbreak.
In March, City of London Police reported a 400% rise in scams as a result of Covid-19 fraud. You can learn more about Covid-19 scams here.
Small Business Cyber Attacks
According to a 2019 report, small businesses fall victim to around 10,000 cyber-attacks every day, costing a staggering £4.5 billion a year. Criminals will exploit any crisis for profit. And as hackers learn more about how people live and work online, their scams will become increasingly difficult to detect.
It's a myth that only inexperienced and naïve people fall victim to online scams. The truth is that we're all vulnerable to online fraud. But cyber insurance can at least help you and your business to bounce back from the effects of online criminal activity.
What Does Cyber Insurance Cover?
Legal and Forensic Services – As part of your recovery, experts will work to find the source of the security breach. They'll assess the extent of the breach, and advise on the steps you need to take to restore order and security.
Computer Security Cover – If hackers alter, corrupt, damage or destroy your valuable data assets, cyber insurance can cover you for any losses you suffer as a result. A cyber insurance policy could also cover you should you unknowingly pass on a computer virus to any of your clients or customers.
Notification Services – Online data breaches are rarely self-contained. They can spread until they affect hundreds, or even thousands of computers. As part of your cyber insurance cover, your insurers could inform and advise any individuals affected by a security breach on your behalf.
Monitoring Services – From identity theft to credit fraud, many things can follow an online security breach. Your cyber insurance cover could include call centre services, credit monitoring and identity monitoring solutions to assist anyone affected by the breach.
Do I Need Cyber Insurance?
If you do any work online – even if it's just sending the occasional email – then yes, you could benefit from cyber insurance. But to help you assess whether your business could benefit from this sort of cover, read our detailed guide to cyber insurance here.
At Tapoly, we can provide comprehensive cyber insurance cover as part of a standard professional indemnity insurance policy. Head here for more information, and to get an online quote in minutes.