As part of the process of setting up a business, you'll have to register your company address.
What is your company registered office address? Well, if you're doing business in the UK, you can't keep many secrets. You have a legal obligation to be as open as possible to anyone who wants to find you.
Think of your company registered office address as your business's "official" address. This is the address the government will write to when they want to contact you, and when they want to send you official documents such as tax reminders.
When you register your business, anyone will be able to view your company registered office address for free on the Companies House website. You must also feature this address on your website and on all business correspondence, such as invoices and emails.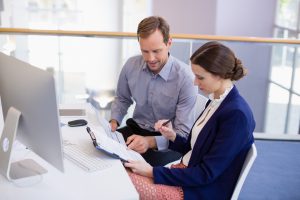 Requirements of a Company Registered Address
Your company registered office address must be in the UK, usually in the same country in which you set up your company. It must be a physical address, and you must provide the full address, including the postcode.
As you need to register a physical address, you cannot use a PO Box number as your company registered address. However, you can use a PO Box so long as you include the postcode of the building in which the PO Box is situated.
You can learn more about the rules on the government's website.
The Different Kinds of Business Address
So your company registered office address is your business's "official" address. But that doesn't necessarily mean it will be the address of the place where you do most of your work.
Correspondence address
You might also have a correspondence address, one that your staff, your bank, your service providers or your customers use when they wish to contact you.
Business address
You may also have a business address, which is the address of the premises where the majority of your business activities take place.
Trading address
And if you have multiple premises, you'll have multiple trading addresses.
You don't need to register any of these additional addresses with Companies House. But you do need to list at least one address on Companies House. So it's important that you define your business's "official" address before you register your company.
What Company Address to Use If I Work From Home?
If you run your business from home, you might be reluctant to list your home address on Companies House. There are some alternatives here including registered office services, accountants and serviced offices.
Registered Office Services
Some businesses offer registered office services. Sign up with them, and they'll let you use their address as your business's registered office. They'll also forward any correspondences the government sends you to your preferred address.
Using Your Accountant's Address
Do you have an accountant? Talk to them. They might let you use their address as your registered office address. In fact, they might prefer you to do this, as it would make it easier for them to deal with certain tax issues.
Using a Services Office Address
If you work in a serviced office, you might be able to use the office's address as your registered address. Do check with the management first, though. Not all serviced offices are happy to act as registered offices.
Using a PO Box as Your Registered Address
Finally, as we said above, you can use a PO Box as your company registered office, so long as you include a postcode. Don't just supply the PO Box number. Remember, your company registered office must be an actual, physical address.
Directors Addresses on Companies House
If your business has directors, they must register their own home addresses at Companies House. For extra privacy, some directors choose to supply a "service address" at which they can be reached, as this will keep their home address off the public Companies House website.
Directors must list their address on Companies House so that credit agencies and tax officials can easily contact them, if need be. But if you're a director and you're seriously worried about putting your home address out there, Companies House might make an exception, provided you can prove you're "at serious risk of violence or intimidation".
However, directors disclosing their addresses is one of the stipulations of being a limited company. So if this is really an issue for you, consider registering as a sole trader or a partnership instead.
You can read more about your options for registering your company in our detailed guide.
Registering Your Business – Other Things You Need to Know
Registering your business can be a long and complicated process. But it's a legal requirement, and it's also absolutely necessary if you want to see any long-term and sustainable growth.
When you register your business, you can either register as a sole trader, a limited company, or a partnership. There are different stipulations for each, and the process of registering for each is slightly different. You can read our full guide to registering your business here.
But whether you register as a sole-trader, a limited company or a partnership, there's one major thing that all businesses should consider from the moment they start trading.
It's insurance. Insurance guarantees that, no matter what happens, you'll be able to continue trading and recover from any business setback.
At Tapoly, we offer comprehensive insurance packages that will give you the tailored cover you need at a price you can afford. Head here to get a free quote online in minutes.