Floods are the most common natural disaster in the UK, and flooding is a major risk for all businesses of all sizes.
Don't think of flooding as something that happens to other people. If you're not prepared, even a small flood could utterly sink your business.
It's important that you conduct adequate flooding contingency planning, so that you'll be prepared to act if you ever have to deal with a flood in your business.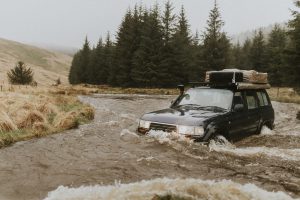 Is My Business At Risk of Flooding?
Short answer: Yes. All businesses are at risk from flooding. Some businesses are located on flood plains, and you can check if your business is situated on an area that's liable to flood.
But even if your business premises aren't on a flood plain, the risk of flooding remains: All it takes to bring chaos to your business is a burst pipe, or a broken water main, or even a leaky tap in a neighbouring property.
Why Small Businesses and Self-Employed Workers Need Flood Contingency Plans
Flooding presents a major risk, and a major problem, for businesses of all sizes. But whereas a larger business could potentially bounce back from any disaster, even the slightest setback could spell utter disaster for smaller businesses and self-employed workers.
If you don't currently have a flood contingency plan, then it's time you created one.
How to Write a Flood Contingency Plan for Self-Employed and Small Businesses
When writing your flood contingency plan, think about this: If you arrived at work one morning to find that your business had flooded, what would you do? Who would you call? Where would you work? And what steps would you have to take to keep your business running?
Answering each of these questions as thoroughly as possible will help you formulate your flood contingency plan. Outline the specific steps you'll take, and the order in which you'll take them. List who in your business will be responsible for each step. Take the time to gather key contacts now, so that you won't have to think about who to call when the water's rushing in.
What Not To Do When Your Business Is Flooded
Your flood contingency plan should detail how you'll secure your property and your assets to minimise flood damage, and to allow for business continuity. But above all, it should focus on keeping people safe.
Your flood contingency plan should contain a list of things not to do as well as a list of steps to take. For instance, it should advise people to avoid wading into any body of water, just in case there's any hidden currents or debris. And it should advise that flood water will almost always be contaminated.
You'll find some good flood contingency plan templates on the government's website.
Further Steps to Protect Your Business Against Flooding
Secure your business assets. If possible, keep physical assets on upper floors or higher shelves in watertight containers. Make secure back-ups of any of your digital assets.
Act on any leaks, no matter how minor, as soon as possible. Don't let potential problems spiral out of control.
Finally, invest in adequate business insurance. Buildings cover, contents cover, and business interruption insurance could help you keep the lights on if your business is ever hit by a flood, or any other disaster.
At Tapoly, we specialise in providing affordable cover that's tailored to meet your unique business requirements. So you'll get all the cover you need with no hidden costs.
Get in touch to get a free quote today.
If you have any questions or would like to discuss your options, please contact the Tapoly team at info@tapoly.com, call our helpline on +44(0)207 846 0108 or use the chat system on our website.