The UK went into lockdown on 23 March as the Coronavirus took hold and it became apparent that strict measures would be needed to contain the pandemic. Schools, shops and offices shut and people were confined to their homes. Many businesses furloughed their employees. Those that could started working from home, holding virtual meetings via video conferencing tools such as Zoom and Google Teams.
We're now more than two months on and the Government has started to ease restrictions. This means that some businesses are being allowed to reopen and employees are starting to return to their offices.
However, with the reopening of offices it's imperative that businesses ensure this is done safely. Employees need to feel confident that by returning to work they are not jeopardising their health and safety.
Here we look at the guidance provided by the Government to support businesses as they consider what action they need to take so their employees stay safe at work.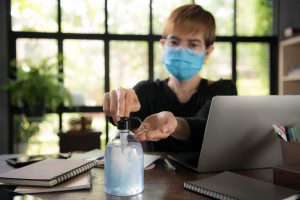 Which Businesses are Allowed to Reopen?
Not all businesses are allowed to reopen yet. If you are unsure about whether you are allowed to open your business, you can check if you can open on the Government website.
What Steps do Employers Need to Take to Look After Their Employees?
The Government has published general advice on the five key steps all businesses must take before they allow employees back in to their offices. These are:
Carry out a COVID-19 risk assessment in line with the HSE guidance and share this with your employees and on your website
Develop cleaning, handwashing and hygiene procedures
Help people to work from home as much as possible
Maintain 2m social distancing, wherever possible
Where it's not possible to maintain 2m social distancing, put measures in place to manage the transmission risk.
These guidelines apply to all businesses. The Government has also provided specific guidance for certain types of businesses on how to keep their workplace safe.
What Types of Business Has the Government Provided Specific Advice For?
The Government has published eight guides to cover a range of different types of work. Some businesses may need to look at more than one guide if their work covers more than one of the areas outlined here.
What Aspects of Work do the Guidelines Cover?
For each business type the Government guidelines look in detail at a number of considerations. These include:
How to create a COVID-19 risk assessment, assessing and managing the risks posed by the Coronavirus pandemic
Which employees should be going to the workplace
How to maintain social distancing at work
How to manage customers, visitors and contractors
Cleaning the workplace before it reopens and ongoing procedures once it is open again
What Personal Protective Equipment (PPE) and face coverings are required in the workplace
Managing the workforce
Goods coming into and out of the building
Where to go to for more advice.
As well as providing information online, all the guides are available to download. The Government has stated that they will publish further guidance as more businesses are allowed to open.
Time to Review your Business Insurance Needs?
As you prepare to reopen your business it may be prudent to review your business insurance requirements. If you have a need for Professional Indemnity insurance, why not get a quote from Tapoly?