July is Good Care Month. It's an opportunity to celebrate the vital work that carers do. We have an ageing population, and many of us will have complex care needs in later life. To avoid a social care crisis, we'll need more people than ever before to become carers. That's why one aim of Good Care Month is to promote the great career opportunities and progression available in the social care sector.
Caring is tough work, yet immensely rewarding. It's truly a role in which no two days will ever be quite the same. But the job comes with certain risks, which is why it's vital that carers get the insurance cover they need. Insurance guarantees that, no matter what happens, carers will be able to bounce back and continue to do their vital work.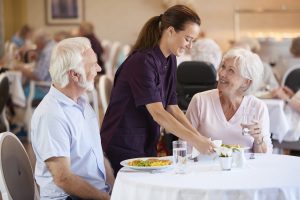 When Do Carers Need Insurance?
Many carers work for agencies, organisations, charities or institutions. If this is the case, your employer should take care of all your insurance needs for you.
But some carers are self-employed. Families often pay qualified carers to care for an older relative, or a relative who has special needs. Some carers go on to run their own care business, and many act as care providers, often on an unpaid basis.
In each case, it's vital that you get carer insurance to cover you for certain on-the-job risks. The sort of insurance you need will depend on the specific nature of your role. So let's take a look at some of the available insurance options.
Public Liability Insurance for Carers
Most carers do the majority of their work on other peoples' property. You'll visit a client's house to provide for their needs. If your client has round-the-clock needs, you may even stay overnight at their house.
In any case, anyone who does any work on other peoples' property should get public liability insurance. This is to cover you for any accidents that take place while you're working, particularly those that cause injuries or property damage.
Head here for more information about public liability insurance.
Employer's Liability Insurance for Care Businesses
If you run your own care business, you'll need employer's liability insurance. This is to cover any carers you employ for on-the-job accidents and injuries.
Anyone who employs others has a legal responsibility to get employer's liability insurance. This is one type of insurance that you simply cannot do without.
Head here for more information about employer's liability insurance.
Contents Insurance for Care Equipment
You may have to invest in specialist equipment to provide certain caring needs. And in any case, you'll probably need a laptop and a smartphone to manage your time. Contents insurance will cover you for any items you use in your line of work. With this type of insurance, if any of your equipment's ever destroyed, damaged or stolen, you'll be able to get a replacement in no time at all.
Head here for more information about contents insurance.
Personal Accident Insurance
Caring can be physically demanding work. If you ever get ill, or if you're involved in an accident that affects your mobility, then you may not be able to provide the level of care your clients need. Personal accident insurance will cover you for your downtime. You'll be able to focus on your recovery without having to worry about any loss to your earnings.
Head here for more information about personal accident insurance.
Legal Expenses Insurance
Anyone who does any sort of self-employed work should consider legal expense insurance. This is because, when you're self-employed, you're responsible for all of your finances. And if you do your own finances, there's always the chance that HMRC might decide to investigate you, to ensure that everything's above board.
HMRC investigations can be costly and immensely time-consuming for small businesses and self-employed people. This is why it pays to have Legal Expenses Insurance. It can help you to get through any government tax investigation without seeing your bottom line suffer.
But this isn't the only type of legal expense this sort of insurance covers. Head here for more information about legal expenses insurance.
Medical Malpractice Insurance for Medical Support
If you're a carer, then you may have to provide medical support. You may be responsible for administering injections, performing physio, or overseeing someone's medication.
We all make mistakes. But when you're providing essential care, even the smallest of mistakes can have serious consequences. That's why it's imperative to get medical malpractice insurance. It will cover you for all the expenses that come with a medical malpractice charge, from inquest costs to professional indemnity and loss of documents.
Medical malpractice insurance can also cover you for "Good Samaritan" acts – when you give assistance to someone who's not under your direct care.
Head here for more information about medical malpractice insurance.
Affordable Insurance for Carers
No matter what type of carer you are, we'll give you the cover you need at a price you can afford.
We'll let you tailor your cover to suit your exact needs. So you won't pay for any cover you don't need, and there are no hidden fees to worry about either. Our cover starts at just £13 a day, with no hidden fees. Head here to get an online quote in just one minute.
If you need help and support in getting your insurance please contact us at info@tapoly.com