The UK government has done much to support workers during the Coronavirus pandemic. But what sort of help is available if you're self-employed? Are there any schemes available to support contractors and freelancers? After all, your work's probably been just as affected as anyone's. You might be getting less work than you used to. Or maybe you're not getting any work at all.
The good news is that support is available for the self-employed during the Coronavirus pandemic. In this post, we'll explore the available schemes, outline who qualifies, and let you know how to apply.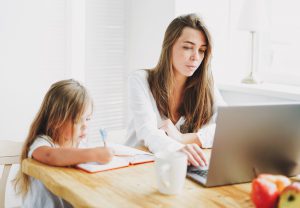 Support for the Self-Employed During the Coronavirus Pandemic
This is the support you can get if you're self-employed:
A lost income grant.
Universal Credit, Support Allowance, and other types of financial support.
Self-assessment payment on account delay.
The government also suggests finding additional work to keep you going during your downtime. Head here to use the government's find a job service.
Lost Income Grants for Self-Employed People During the Coronavirus Pandemic
The lost income grant isn't just for self-employed people. You can also apply if you're a member of a partnership. The grant's for any self-employed worker "adversely affected by coronavirus". What does the government mean by "adversely affected"?
They give some examples:
You're self-isolating.
You're on sick leave because of coronavirus.
Someone in your house has coronavirus or another serious condition, and you must care for them.
Coronavirus lockdown has forced you to scale down or stop trading. This might be because it's interrupted your supply chain, reduced your client base, or otherwise made it impossible for you to work.
The government intends for the grant to either help you continue to work, start a new trade, or take on additional employment. And it is a grant, rather than a loan. You don't need to repay it, but it's subject to Income Tax and National Insurance.
The amount you get depends on your average trading profit over the previous three tax years. Your first grant is worth 80% of your annual monthly trading profits, capped at £7,500. You'll get it in a single instalment, which covers three months' worth of profits.
For a full guide to lost income grants for self-employed workers, head to the government's site. Here you can also find out whether you're eligible to apply, and they'll even help you work out how much you can receive.
Other Financial Support during the Coronavirus Pandemic – Universal Credit and More
If you're not eligible for a lost income grant, the government suggests you apply for Universal Credit. If you have a disability or a health condition, you can also apply for New Style Employment and Support Allowance.
During the Coronavirus pandemic, the government has widened the New Style Employment and Support Allowance eligibility criteria. You can now apply if you or your child might have Coronavirus, or you're recovering from it. If you're self-isolating, or if the NHS has told you to stay at home for any length of time, you might also be able to get Support Allowance.
There's no need to visit a Jobcentre to apply for any of this financial support. But because they're processing a large volume of applications, it may take longer than you expect to receive your payment. You can ask for an advance payment, though, to keep you going.
Self-Assessment Payment on Account Delay
If you're self-employed, you may have a payment on account to make on your self-assessment tax by 31 July.
If you're struggling to make ends meet, you can delay this payment until January 2021.
Head here for more information.
Treat a Crisis as an Opportunity
Many people have used lockdown as an opportunity to try something new. You could do the same.
If you're receiving Universal Credit, you may also be able to apply for a New Enterprise Allowance. This is a government grant to either help you start your own business, or else grow your business if you're already self-employed. Head here to read our full guide to the New Enterprise Allowance.
One thing this crisis has made abundantly clear is just how vital it is for self-employed people to have a safety net. That's why all self-employed people should consider insurance. It's a guarantee that, if anything ever goes wrong, insurance will have you covered, and ensure that you'll be able to continue trading.
At Tapoly, we are committed to making specialist insurance policies accessible for self-employed freelancers and contractors. Our cover starts at just 35p a day, with no hidden fees. Head here to get an online quote in just one minute.