The Coronavirus pandemic has disrupted the lives of so many people across the world. Starting in China, the virus spread quickly across every continent and, because it is so contagious, most of the world is now in lockdown.
The key advice in the UK is:
To stay at home and only go outside to buy food, take exercise or go to work (and only then if it's not possible to work from home);
To stay two metres away from anyone from a different household;
To wash your hands as soon as you get home;
To meet no one, not even friends or family in different households.
While the lockdown appears to be slowing the spread of the virus, it is having a devastating impact on the economy and the future of many small businesses hangs in the balance. Those businesses who thought they were protected by insurance were in for a nasty shock when they discovered that for most of them Business Interruption insurance doesn't cover pandemics.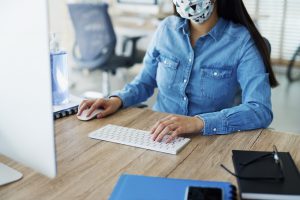 Small Business Support from the Government
However, it's not all bad news. The UK Government has stepped in to provide support to the self-employed and businesses of all sizes, from one man bands to large corporates.
Let's look at what measures have been taken by the Government to help business:
Business Interruption Loan Scheme
The Coronavirus Business Interruption Loan Scheme (CBILS) has been made available to SMEs with an annual turnover of up to £45 million. Through the scheme businesses can get a loan, an overdraft or access finance of up to £5 million for up to 6 years.
The government will cover any upfront lender fees and also the first year's interest payments. They will also act as guarantor for 80% of each loan, providing lenders with confidence that the money will be repaid.
You can find out more about CBILS and how to apply on the Gov UK website.
The Future Fund
For those businesses unable to access the Coronavirus Business Interruption Loan Scheme, they may be able to get funding through the Future Fund instead.
Available from May, the Future Fund, delivered in partnership with the British Business Bank, will provide loans from the Government to UK companies. Loans of between £125,000 to £5 million will be available, subject to match funding from private investors.
The Future Fund will suit those businesses that rely on equity investment. Eligible businesses include:
They must be based in the UK
They can access the equivalent match funding from third-party private investors and institutions
They have raised at least £250,000 in equity investment from third-party investors within the last 5 years.
Head here to find out more about the terms of these loans.
Help with Paying Employees
Many businesses are struggling to trade as a result of the Coronavirus pandemic. Without an income it is very difficult to pay employees. The Government are advising businesses in this situation to furlough their employees. The Government will cover 80% of employees' PAYE salaries, up to £2,500 per month per employee.
This is a temporary scheme and is available for 4 months from the beginning of March. The scheme will be extended if necessary. The money provided by the Government is a grant, not a loan and will not need to be paid back.
Find out more details about the scheme and who is eligible to claim.
Self Employment Income Support Scheme
The Government are currently devising a scheme to provide support to the self employed. More details on the scheme will be made available by the middle of May and the self employed will be able to apply for the grant from the start of June.
The self employed will be able to claim up to 80% of their trading profits up to £2,500 per month. Income Tax and National Insurance contributions will need to be deducted from this amount but it will not need to be repaid. The scheme will be available for 3 months but may be extended beyond that.
You can find out more about the Self Employment Income Support Scheme here.
Deferring Tax Payments
Some businesses and individuals may prefer to defer tax payments to ease cashflow within a business or household. The Government is allowing tax payments to be deferred until a later date. This applies to VAT payments and the second self assessment payment, usually due at the end of July.
Business Rates Relief
If you run a business in either the retail, leisure or hospitality industry you will get a business rate holiday for the 2020/21 tax year.
This applies if you run one of the following types of business:
shop
restaurant, café, bar or pub
cinema or live music venue
Sports club, gym or spa
Hotel, guest house, Bed & Breakfast or self-catering accommodation
Find out more here.
Support from Insurers during Coronavirus
While most Business Interruption insurance policies don't cover the Coronavirus pandemic, the majority of insurers are supporting SMEs in other ways.
Working from Home Cover
Most office-based workers now find themselves working from home instead. Recognising this, most insurers have automatically extended home insurance policies to cover working from home. It may be worth checking your insurer's website, but in most cases there is no need for you to advise them that you are currently working from home.
Unoccupied Buildings Cover Extension
It's usual for Commercial Property insurance policies to include a clause allowing for offices and other business premises to be empty for 30 days in any year. Recognising that many shops and offices are currently closed, most insurers have automatically extended this clause to 90 days of unoccupation. It shouldn't be necessary for you to let your insurer know if you have been forced to temporarily close your business premises.
Unoccupied premises tend to represent an increased risk of damage, whether that's fire, flood or vandalism. However, there are a few simple steps you can take to mitigate the risks to your property. These include:
If possible, visit your business premises once a week to check that all is well.
Redirect post to your home address or pick it up and take it away with you each time you visit.
Turn off utilities (water, gas and electricity) at the mains and drain down your heating system if you can.
Take away any expensive stock and portable equipment. Anything you can't remove, lock away or move out of sight.
Make sure all doors and windows are shut and locked and any metal shutters are firmly down and locked. Check them on each visit.
Make sure all bins are emptied and all external bins are positioned away from the walls of your building.
Check that your alarms are switched on and are working properly.
10% Discount Available on all Tapoly Business Insurance Products
We know small businesses and sole traders are finding things tough right now. That's why here at Tapoly we're offering you a 10% discount on all our Professional Indemnity insurance purchases until the end of June 2020.
The discount is applied automatically when you get a quote from us and applies equally to annual or short-term policies. Our standard terms and conditions apply.