If you're self-employed or a sole trader, do you need a business bank account? After all, you're your own boss now. You do things on your own time, and on your own terms. So surely you can do business with your own bank account?
It's an issue many who are new to the business world wonder about. Some seem to believe that a business bank account needlessly complicates things. But there are many benefits to opening a business bank account. And once you understand these benefits, you might understand why you need one.
Is it a Legal Requirement to have a Business Bank Account?
You're only legally required to have a business bank account if you set yourself up as a limited company. Registering as a limited company essentially means that your business finances are separate from your personal finances, so obviously you'll need a business bank account for this arrangement.
Should you register your business as a limited company? Head here to read our guide.
But even if you're not registered as a limited company, there are still many reasons to consider opening a business bank account.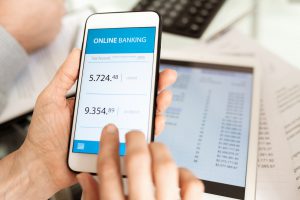 The Benefits of a Business Bank Account
It Makes Taxes Easier – If you run your own business, you'll have to complete your own tax returns. That means you'll have to calculate your taxable profit. If you use a personal account for your business, all of your business costs and income will be mixed with your everyday personal costs. This might make it harder for you to complete your tax return. But with a business bank account, all costs, expenses and income will be in the same place. It can streamline the whole tax return process.
It Makes You Look More Professional – With a business account, your clients will make payments to an account that's held in your business name, rather than your name. This could make you look more professional. Like voluntarily registering for VAT, it sends a strong message that you mean business.
You Could Attract Bigger Clients – Some of your clients may refuse to pay any money into a personal account. If you want to work with the sort of big clients who'll bring you long-term success, you may need a business bank account.
It Can Help Your Business to Grow – Banks offer many financial services exclusively to business bank account holders. You could take out a loan, get a business credit card, take card payments directly from your customers, and get expert advice from business banking managers. These are the sort of services that could unlock your potential to grow as a business.
It's Safer – but only in the case of you registering as a limited company. As a limited company with a business bank account, your own personal assets will always be kept separate from your business assets. So even if your business faces significant losses, your personal finances will be protected. Without a business bank account, you could be personally responsible for all of this debt.
Can I Use a Personal Bank Account for Business?
If you're a sole trader or a freelancer, there are no laws against using a personal bank account for business purposes. But your bank may require you to open a business account regardless, therefore it is wise to pay greater attention to the small print of your personal bank account. It might stipulate that you cannot use your account for business reasons.
If this is the case, and your bank suspects that you're using your personal account for business reasons, they may threaten to close your account.
If you're not sure, contact your bank. They'll explain their terms and conditions, and if they require you to open a business account, they can set up a meeting for you as soon as possible.
What Do You Need to Set Up a Business Bank Account?
Business bank accounts aren't usually free. You may be able to get an initial free period after setting up your account but once that expires you'll usually have to pay monthly fees. These usually start at around £5 – £8 a month. So the first thing you'll need before you open a business bank account is an income stream.
Money might be tight when you're just starting up, but hopefully by now you'll realise that this cost is justified. But even so, it pays to shop around. Use a price comparison site to find a business bank account that suits your needs at a price you can afford.
And don't worry too much about these monthly fees. They count as business expenses. In fact, many charges associated with business bank accounts are allowable business expenses. There are strong tax benefits to opening a business bank account.
Beyond this, you'll need:
Proof of your ID, and proof of your address.
Your full business address (even if this is just your home address) and contact details.
Your Companies House registration number (only if you're registered as a limited company or partnership).
Certain financial details, including your estimated annual turnover. You may also need to provide details of your personal financial situation.
How Long Does It Take to Set up a Business Bank Account?
It depends on which bank you choose.
In most cases, you can't open a business bank account online, or even over the phone. Your bank will probably want to meet with you in person before they agree to open a business bank account for you. After this, they'll have to do a number of routine checks and searches.
Registering as a limited company can speed the process up, as your bank will be able to check your Companies House details. Using the same bank for your business account that you use for your personal account can also speed things up, as the bank will already have access to certain details.
With some banks the whole process can be very quick, but it's worth allowing at least a week to get everything sorted. Some banks can be very slow, taking up to a month or more.
What Else Will I Need?
Running your own business brings a lot of freedom, but it also brings a lot of risks and obligations. That's why, if you're running your own business, you're going to need insurance, which can offer an essential safety net and peace of mind. If anything ever goes wrong, insurance will keep you safe, and ensure that you'll be able to continue trading and focus on doing what you love.
Read our essential guide to the sort of insurance you'll need as a sole trader.
At Tapoly, we have specialist insurance policies for self-employed, freelancers, SMEs and gig workers. Our cover starts at just 35p a day, with no hidden fees. Head here to get an online quote in just one minute.