Given the flexibility both to the individual and businesses, virtual assistants are becoming increasingly more popular. As a virtual assistant you will provide administrative support services to your clients. It's most likely this will be from a remote location such as your home. You may be employed on a contract or freelance basis.
But have you got a handle on the insurance requirements that are best suited to the work that you carry out? Or have you even given any thought to whether you need insurance?
What risks may a virtual assistant face?
As a virtual assistant, clients can and will outsource a range of tasks to you. This could be anything from diary management, email management, data entry, content creation, social media management, customer interactions, business related research through to administrative tasks.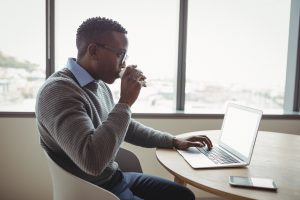 As a result of the range of work you carry out for different clients, you may have access to business sensitive information, customer data, social media accounts and even bank accounts. Having access to these types of things can create risk. And the potential for things to (unintentionally) go wrong. And if your clients place blame on you, how do you respond?
Have you given any thought to the following potential scenarios:
Accidentally deleting a client's mailing list that they use for CRM purposes
A social media post which attracts negative attention
Causing damage accidentally when visiting a client's office or home
Responsibility to your employees if you are also an employer
In some cases, businesses won't allocate work to virtual assistants who do not have insurance in place. So, this is another consideration to keep in mind.
What insurance might a Virtual Assistant want to consider?
Depending on the nature of the work that you carry out as a virtual assistant and whether you are a sole trader or employ staff will all affect the insurance that you take out.
Some of the areas you many want to consider include:
Professional Indemnity insurance
Have you thought what you would do it a client sues you for negligence relating to professional services or advice that you have provided?
Professional indemnity insurance is designed to protect you if a client should make a claim against you for financial losses suffered due to your advice or services.
A professional indemnity insurance policy from Tapoly also includes cyber liability – protecting you against hacking or data breaches. Something which could be reassuring if you handle data for your clients.
Public liability insurance
Given the nature of the title – virtual assistant – you will most likely spend the majority of your time working remotely rather than based with your clients. But if you do spend regular time based at a client's property or host clients at your premises you may want to consider public liability insurance.
Public liability insurance will cover legal expenses relating to any damage caused to your client's property as a result of your business. Or if your client sustains an injury whilst visiting your premises for example. Think about a situation where you spill coffee on a client's laptop and ruin it. Or a client trips over your laptop charging cable, injuring themselves.
Employers liability insurance
If you employ staff, then having employer's liability is a legal requirement. If you are a sole trader or individual, then it is not something you need to consider currently. But of course, circumstances can change.
The gov.uk site states that you must get employers liability insurance as soon as you become an employer and have cover in place for at least £5million from an authorised insurer.
Employers liability insurance from Tapoly provides £10million cover so you can be sure you are protected.
Legal Expenses insurance
Legal expenses insurance will cover you for a range of legal disputes which may not be covered by a standard indemnity insurance policy.
For example, you get into a contract dispute with a client, suffer loss of earnings or are subject to a tax investigation (currently receiving attention due to the changes to be made to IR35 regulation)
With Tapoly, you can add legal expenses cover when you take out Professional Indemnity Insurance to protect you from a range of legal issues.
How Can Tapoly Help?
As a virtual assistant, you mustn't overlook your insurance needs. With the variety of work, access to confidential and business sensitive data and working with a range of clients at one time comes risk. Risk which you should cover with the right insurance products.
At Tapoly we believe insurance shouldn't be complicated or expensive. We offer affordable, on demand insurance products so that you can spend time working on what you love knowing that your commercial risks are covered. Take a look at our insurance product page to see all of the insurance cover that we offer and see how we can help you in your work as a virtual assistant.
If you need help and support in getting your insurance please contact us at info@tapoly.com