An unpaid or delayed invoice is something all freelancers and contractors have to deal with at some point. Some clients are just forgetful, or disorganised. But you'll also encounter clients who, for one reason or another, simply refuse to pay an invoice.
So when faced with a non-payment of an invoice, what are your options? What are your legal rights, and how can you ensure this sort of thing doesn't happen again?
Non-Payment of an Invoice – Your Legal Rights as a Self-Employed Freelancer or Contractor
In UK law, invoices are only legally-binding when both you and your client are registered for VAT. You can read our guide to VAT registration for self-employed freelancers and contractors here.
However, the government does recognise that when you send an invoice, you have a right to get paid. What's more, whoever receives your invoice is obliged to pay. And unless you agree a payment date with your customer, the government advises that your customer must pay an invoice within 30 days of receiving it.
So if you're facing a non-payment of an invoice, the first thing to consider is this: Did you and your customer agree a payment date? If not, when did you send the invoice? If it was fewer than 30 days ago, then give your customer a bit more time. They may be operating on a 30 day payment window. But if it's been more than 30 days, then it's time to take action.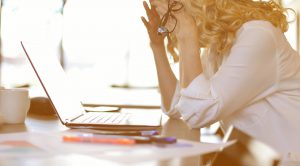 First Steps – Get in Touch with the Customer
Explain that you haven't yet received payment for the invoice. Quote the invoice reference number, and let them know on which date you sent it. Ask them to clarify when they expect to pay the invoice. Be as polite and as courteous as possible, but also be firm.
This might be the end of it. The customer might simply have forgotten, or they may have been too busy with another matter. Hopefully they'll apologise, promise to pay the invoice as soon as possible, and let you know when you might expect payment.
Yet if the customer repeatedly fails to pay, and if you find yourself chasing up the same invoice time and time again, then then you might want to escalate things.
But before we talk about escalation, let's consider the unthinkable: You reach out to the customer, and they tell you that they're not going to pay the invoice because they're not happy with your work.
What to Do If a Customer Refuses to Pay an Invoice
You need to try and resolve the situation amicably. It's best to do these things face-to-face. Too many things can go unsaid if you talk over the phone, and a long exchange of emails will get you nowhere.
So set up a meeting. Let the client explain why they're dissatisfied, and see if there's anything you can do to make things right. You never know, it might not take much work to make the client happy. Or perhaps you'll be able to make them see reason.
In any case, go into the discussion with a cool head and an open mind. Keep your temper – you're a professional, after all – and remember that you're not there to simply extract payment. You're there to reach an agreement, or a compromise.
But if you can't reach an agreement, then it's time to escalate things.
Non-Payment of an Invoice – Can You Get the Law Involved?
So you're tired of chasing up the same invoice again and again. Or your client's not happy with your work, and they're refusing to see reason. How can you escalate things?
In three ways:
Mediation – If you can't reach a compromise with your client yourself, with mediation you can arrange for an impartial third party to act as a referee in your dispute. Their aim is to reach a resolution that works for everyone.
Legal Action – That's right. You can take someone to court for non-payment of an invoice.
Statutory Demand – This is like an invoice, but it's less of a business formality and more of a legally-binding demand for your money. And if your customer ignores your statutory demand, you can take things even further. You can arrange to have companies liquidated and individuals made bankrupt.
Head here to read more about these escalation options. But one important thing to remember is this: All of these things will cost you a lot in time and money. So you should only escalate things if you're owed a significant amount. Otherwise, you might instead put things down to experience, and think of ways you can avoid this happening in the future.
How to Safeguard Yourself Against Unpaid Invoices
It's a good idea to put things in writing. Agree on payment dates, or agree to work to a 30 day payment window. Also think about the contracts and other agreements you sign with your clients. Don't just include clauses about invoice payments. Also account for what you pledge to do if the client's dissatisfied with your work. That way, you're less likely to be faced with a client simply refusing to pay an invoice.
If you're worried about losing income to unpaid invoices, you might consider getting yourself a financial adviser, or even an accountant. They'll help you establish a cashflow system that will ensure that you can stay afloat, even when faced with an unpaid invoice.
It also pays to get yourself insured. We offer specialist insurance policies for freelancers and contractors. If you ever have to take an unpaid invoice to court, we can cover your legal fees. We can also cover you for many of the additional risks that freelancers and contractors face from as little as 35p a day.