You're a sole trader if you run your own business as an individual, and you're self-employed. Contractors can also be self-employed, but as they get their work through limited companies, they don't qualify as sole traders. Sole traders are totally independent. You get to keep all your profits after tax, but you're also personally responsible for any losses your business makes. You can read a guide to setting up as a sole trader here.
So being a sole trader brings a lot of freedom, and it can potentially be highly lucrative. But it also brings a lot of risk and obligations. And that's why it's vitally important that all sole traders get the insurance they need.
This is your essential guide to your insurance requirements as a sole trader. We'll outline the sort of cover you'll need to get for yourself, and the sort of cover your clients might expect you to get before they agree to work with you. We'll also explain how to get the cover you need.
Insurance Requirements for Sole Traders – What's Required by Law?
The sort of insurance you get as a sole trader will depend on who you are and what you do. A freelance IT consultant probably won't have the same insurance needs as a freelance painter or decorator. But some types of insurance are required by law.
The main thing to consider is Employer's Liability Insurance. The Employer's Liability (Compulsory Insurance) Act came into force in 1969. If you employ any staff – even if it's just one or two people – you'll need this sort of cover. It covers potential costs and legal fees if an employee or ex-employee makes a claim against you for bodily injury sustained on the job. Learn more.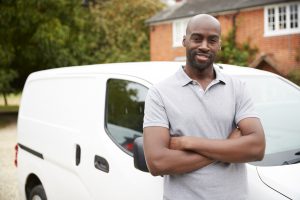 Insurance Requirements for Sole Traders – What Will Your Clients Want You to Have?
Some clients may refuse to work with you unless you can prove you have certain types of insurance cover.
Public Liability Insurance covers you if a customer, or a member of the public, injures themselves or damages one of their possessions while they're on your property. It will also cover you if you damage something that belongs to your customers while visiting their premises.
It's easy to imagine the sort of scenarios where this type of cover might come in handy for sole traders. If you're a painter and decorator, you could accidentally drop a tin of paint on your client's floor. And even if you're a freelance IT consultant, you might spill your coffee on your client's laptop.
In both cases, public liability insurance would cover any legal costs and financial compensation. That's why some clients may refuse to let you onto their property unless you can prove you have public liability insurance. Learn more.
Professional Indemnity Insurance covers you if a client alleges that you've made a mistake in your work. This could be anything, from bad advice to inadequate services or poor design choices. If your client's not happy, or if they feel they could make a financial loss as a result of your work, they could seek damages.
Professional Indemnity Insurance will cover the costs of your legal defence, as well as any financial compensation your client may be due. And once again, certain clients may refuse to work with you unless you can prove you have Professional Indemnity Insurance. Learn more.
When you take out Professional Indemnity Insurance, you'll have the option to take out additional Legal Expenses cover. This will protect you from various legal issues that would not be covered by standard Professional Indemnity Insurance, including tax investigations, loss of earnings, identity theft, and employment disputes. Learn more.
Insurance Requirements for Sole Traders – What Other Types of Cover Should I Consider?
Certain types of sole trader work are inherently risky. So all sole traders should consider taking out Personal Accident Insurance. It will cover you for most accidents and injuries that happen by chance, and which could not be predicted. That way, if you're ever put out of action for an extended period of time, you won't have to worry about any loss of income. Learn more.
Almost all sole traders work with computers, and we're all vulnerable to hackers and cyber-attacks. Cyber Breach Response Insurance will give your sole trader business essential online protection. If your system's hacked, or if you suffer a data breach, we'll cover the cost of getting your site and your systems back online. Learn more.
And speaking of computers, for most sole traders, the tools of the trade are very much your livelihood. If anything ever happens to your gear, whether it's lost, stolen or damaged, will you be able to continue working? That's why it's a good idea for all sole traders to take out Contents Insurance. It will reimburse you for the cost of replacing or repairing your equipment. Learn more.
Want A Quote on Your Sole Trader Insurance?
We offer the cover you need from as little as 35p a day, with no hidden fees. You get to tailor your cover to suit your exact requirements, so you won't pay for anything you don't need. You can specify the precise length of your cover, from a matter of days to months or a year. And you can get a free quote online in a matter of minutes. Head here for more information.
If you need help and support in getting your insurance please contact us at info@tapoly.com