Want to work in the fashion industry? You could apply for a job, an apprenticeship, or a placement at a major fashion house, an online retailer, an independent boutique or a high street chain. Or, you could do it yourself, and start your own fashion business.
From a legal and a logistical point of view, starting a fashion business is easier than you might think! But making your fashion business a success? Now that's the tricky part.
In this post, we'll outline everything you should do to get your fashion business off the ground. The rest is up to you!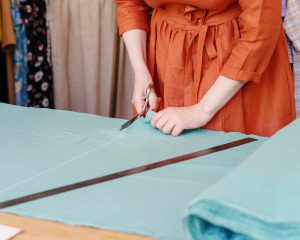 How to Start a Fashion Business
First, you need to decide what sort of fashion business you're going to run. This will depend on where your skills and interests lie. You most likely already have an idea of what you want to do. But if not, here are some ideas to get you started.
Types of Fashion Businesses
When starting your fashion business, you'll need a clear idea of what type of fashion business you'll want to run. For example, do you want to be:
Making clothes. You could make your own clothes from scratch, or repair, restore, or upcycle old clothing into new creations.
Designing clothes. If you have an eye for design but you're not so handy behind a sewing machine, you could design your own prints, patterns and outfits, and let someone else do the manufacturing for you.
Reselling clothes. There'll likely always be a thriving vintage clothing industry, and many people have started successful fashion businesses that specialise in finding, restoring, and reselling high quality vintage clothes.
I Know What I Want to Do. But How Do I Do It?
Details! First, sum up your fashion business idea as simply as possible, ideally in one sentence. For example, "I want to design and sell my own clothes."
Once you know what you want to do, you need to map your process, from start to finish. If you can visualise your business in this way, you'll have a good idea of exactly what you need to do to make your business a reality.
And of course, it'll also soon become clear just how much money you'll likely need to start your fashion business. But don't worry! We'll cover start-up grants a little later.
When mapping out your fashion business, here are some things to bear in mind:
Materials and equipment. Where will you get your raw materials from, and what sort of equipment do you need to make things ready for market?
Skills and training. Do you know what you're doing, or will you need to take any additional training before you can achieve what you want to achieve?
Staff and support. Will you be doing this by yourself, or will you be hiring others to help you?
Location, location, location. Will you run your business from home? Or will you need specialist premises to get started?
Products and pricing. What sort of products or services will you be offering, and how much will you charge for each?
Marketing and distribution. How will you stand out from your competitors? And how will you ensure you meet all of your customers' expectations when it comes to service and delivery?
It's a lot to think about. But the more you think about these things, the more your fledgling fashion business will take shape. And the better you understand these things before you begin, the easier you'll find it to get funding, and to navigate those challenging early days of running your fashion business.
We have a guide to making a cashflow forecast for a small business, that might help you map out the various aspects you need to consider at this early stage. Find it here.
How & Where to Sell Clothes Online
Depending on the scale of your plans, you might be able to run your fashion business our of your home. You can sell your products or services online using either your own ecommerce website, or a dedicated site like Vinted, Depop, eBay, Off The High Street, or Etsy. You could also run pop-up stalls at vintage fairs, makers markets, festivals, and other events.
You can read our complete guide to running a business from home.
Starting Your Own High-Street Fashion Shop
As your fashion business grows eventually you might have to consider getting dedicated business premises. Or perhaps your plan is to open a physical store on the high street, to sell things direct to your customers.
One thing to think about as you consider getting your own business premises is business rates. This is a form of tax that the government charges on any property used for business premises. Head here to read our complete guide to business rates, how they work, how they're calculated, and how they're paid.
Planning Your Fashion Business – Tips for Getting Started
Do your research. Look out for any businesses that are doing something similar to you – whether that's selling vintage clothes on eBay, or designing and selling new clothes from scratch. Pay attention to how much they charge for their products and services, and to the sort of messages they put out on social media and other channels. Also read as many customer reviews as you can, as these will help you identify the sort of problems you'll have to overcome.
Ask for help. Is there anyone in the fashion world you particularly admire? Or are there any businesses you find particularly inspiring? Reach out to them! Explain who you are and what you want to do, and ask if you can meet for a coffee. Or failing that, ask if you can just chat, either via phone or online. Talk to them about how they did it. How did they get their ideas off the ground? What sort of challenges did they face, and what do they know now that they wish they'd known them? If you're open, honest, polite and enthusiastic, they'll likely be all too happy to help.
Get all the support you can. You can work with a government mentor to help kickstart your fashion business. You can also hire people to take care of any aspect of running your business that you're not keen on doing yourself. For example, you can hire an accountant to take care of your finances, or pay a firm to take care of your marketing.
Funding Your Fashion Business
Whether it's to buy materials or equipment, or to invest in a new website or distribution platform, you'll certainly need some money to start your fashion business.
There's lots of help available in the form of business start-up grants and loans. But one thing to bear in mind is that you're much more likely to get this sort of funding if you can present a clear and calculated business plan. Remember we talked above about mapping out your business operations? This is why it's important!
You can read our complete guide to funding your fashion business here.
How to Legally Register & Set Up a Fashion Business
Eventually you're going to have to register your business. This involves telling the government who you are, what you do, and how your business is structured – all so that the government knows how much to tax you.
You can either register as a sole trader, a limited company, or a partnership. Read our guide to learn about the difference between these arrangements. This page also acts as a guide to the legal process for setting up your business, with links to the relevant pages to get started.
Registering your business is a relatively straightforward process. But once you've registered, you'll take on additional tax responsibilities. You'll have to keep detailed financial records, and you'll have to submit a tax return once a year. It's easier than it sounds, but it can be overwhelming if you're new to the business world. So consider hiring an accountant if you need a bit of help.
At this stage you'll also have to choose a name for your new fashion business! There are certain restrictions when it comes to naming your business.
Eventually, you'll have to think about registering for VAT. But you won't have to do this until your annual turnover exceeds £85,000. So having to register for VAT is a good sign that things are going well!
Finally, you should consider opening a business bank account. There are many benefits to doing this, find out whether you should be with our opening a business bank account guide.
One More Very Important Thing to Consider
If you run your own business, you'll have to put up with a lot of uncertainty. But that doesn't mean that you have to go without all safety nets. Affordable and flexible insurance will cover you against many unexpected events, from personal injury to unavoidable interruption.
Here's the sort of insurance you'll need to consider for your fashion business:
Contents insurance – So that, if you ever damage or lose any of your expensive materials or equipment, you'll be covered for replacements.
Employer's Liability – If you employ anyone – even if it's just one person for an hour a week – then you have a legal obligation to get employer's liability insurance. This will cover your employees for any accidents or injuries they may sustain on the job.
Public liability – This will cover you for any accidents or injuries members of the public might sustain while on your premises.
Personal accident – This will cover you for any loss of cash-flow, should you ever be too injured or ill to work.
We offer specialist insurance cover tailored to suit the needs of self-employed people and small business owners. Our cover starts at 35p a day with no hidden fees, and you can get a free quote online in minutes.
If you have any questions or would like to discuss your options please contact the Tapoly team at info@tapoly.com, call our help line on +44(0)207 846 0108 or try our chat on our website.