Have you got what it takes to become a veterinary nurse?
As well as a varied skillset and certain qualifications, you'll need a strong stomach and a lot of stamina. And, of course, you must have a lot of love for all types of animals.
It's a challenging job that's not for everyone. But it can also be deeply rewarding. Your work as a veterinary nurse can help make life better for animals, and for the people who love them.
If you'd like to work as a veterinary nurse, this is your essential guide to getting started. We'll explore just what a veterinary nurse does, the qualifications you'll need, possible pathways into a career, and a few other things to consider.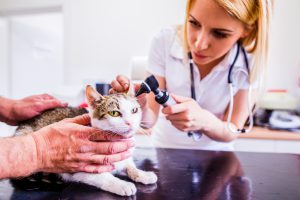 What Does a Veterinary Nurse Do?
Veterinary nurses work closely with veterinary surgeons to care for sick and injured animals.
This isn't a standard 9-to-5 job. Animals don't get sick on schedule, so you will have to work occasional evenings, weekends, and holidays.
No two days will ever be the same. But your duties might include:
Cleaning kennels.
Feeding and caring for animals (e.g. general grooming, administering medication etc.)
Clinical work – assisting veterinary surgeons during procedures, helping with injections, bandaging etc.
Customer service – you might be responsible for explaining diagnoses and procedures to pet owners. You'll often bring good news, but unfortunately you'll also have to deliver some bad news from time to time. This is why veterinary nurses must be just as good with people as they are with animals.
What Qualifications Do You Need to Be A Veterinary Nurse?
Before you begin training as a veterinary nurse, you must have five GCSEs at grade C or above, and these must include English language, maths, and at least one science. In Scotland, you'll need five Scottish Standard Grades one to three.
Alternatively, you'll need an animal nursing assistant (ANA) or veterinary care assistant (VCA) qualification.
After this, you'll need a level three diploma in veterinary nursing from the Royal College of Veterinary Surgeons (RCVS).
You can also get a foundation or BSc degree in veterinary nursing. Not all universities offer this course. But for a good idea of where to start and what to expect, check the Royal Veterinary College's site.
You can also apply to be an apprentice veterinary nurse to learn on the job. Use the government's apprenticeship hub to find opportunities near you.
How to Get a Job as a Veterinary Nurse
As part of your RCVS course, you'll have to complete a minimum of 60 full-time weeks of practical experience in a training practice. This means that even as you study you'll build up a list of contacts and a lot of on-the-job experience. It's possible that most RCVS students proceed quite smoothly from studying into full-time nursing.
Ask around when applying for more information.
Alternatively, even before you start studying you could volunteer at an animal shelter or veterinary clinic near you. Again, this will allow you to build up relevant experience while you train, so you'll be in a good position to start working on a professional level once you qualify.
Beyond this, becoming a veterinary nurse is just like applying for any other job. Once you have the right qualifications, just look out for vacancies. A good place to start is the Blue Cross site. But you could also bookmark the RCVS careers site, along with the BVNA and, if you want to specialise in horses, the BEVA site.
What Else Do Veterinary Nurses Need?
From the moment you start providing medical treatment and palliative care to animals, you'll have to consider insurance.
Head here to read our full guide to the sort of insurance that nurses should consider.
As a veterinary nurse, you'll never work alone, or on a freelance basis. You'll always work as an employee of a practice. And the practice's management should have a group policy in place, to cover you while you work there.
However, this insurance will only cover you for certain responsibilities and at certain times at day. Plus, it may only cover you for as long as you work at that practice. So if someone makes a claim against you after you leave your job, you may be liable for all costs and damages.
That's why it's a great idea for all veterinary nurses to get their own personal professional indemnity and medical malpractice insurance policies. Personal policies will bridge any gaps that might exist in your employer's group policy, so you can rest assured you'll have total cover, no matter what happens.
Want to find out more about getting a personal medical malpractice insurance policy? Head here to get a free quote in minutes.
If you have any questions or would like to discuss your options please contact the Tapoly team at info@tapoly.com. You can also call our help line on +44(0)207 846 0108, or try our chat on our website.