Not everyone has the time or the capacity to clean their property. Therefore, there will always be work for cleaners. So if you want to start your own business, offer professional cleaning services and you'll likely never be short of clients and customers.
This is your step-by-step guide to starting your own cleaning business. We'll cover the logistical side and the legal side, with lots of links to good resources offering further guidance.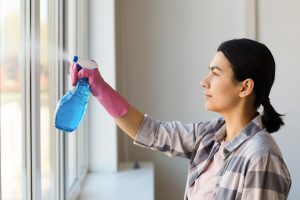 Types of Cleaning Businesses
There are many different types of cleaning businesses. Here are some things to consider:
Solo, or part of a team? You can either work independently as a freelance professional cleaner, or you can assemble a team to start your own cleaning company. If you have a team, you'll be able to cover more ground and potentially make more money. But as we'll see below, you'll also take on much more complicated tax and legal obligations.
Domestic or professional? You can clean peoples' houses, or you can clean commercial and professional properties, such as schools, offices, universities, and so on.
Standard or specialist? You can offer standard cleaning services, or you can offer more elaborate and specialist cleaning services. These might include cleaning graffiti, removing chewing gum, and even decontamination services. Offering specialist services like these will help you stand out in a crowded marketplace. But for every specialist service you offer, you'll have to consider additional training, equipment, and insurance.
What Sort of Qualifications Do I Need to Start a Cleaning Business?
If you want to offer standard domestic or commercial cleaning services, then you don't need any formal qualifications to start a cleaning business. But if you want to offer more specialist services, you will need accredited training from the British Institute of Cleaning Science (BICSc).
First you'll have to get a Licence to Practice (LTP), which will introduce you to the basics – mainly health and safety. You can do this course online in as little as four hours.
After this you can get specialist skills training. The BICSc has over 40 courses to choose from. These include base units, covering things like dusting and vacuuming, as well as specialist units for tasks like chewing gum removal, graffiti removal, and even bio-hazard decontamination cleaning.
Even if you don't intend to offer specialist cleaning services, BICSc accreditation could make you stand out from your competitors.
In any case, as you'll be working on other peoples' property – whether it's their home or their business premises – you'll have to get a basic DBS check.
Mapping Your Cleaning Business
Once you've decided what sort of cleaning business you want to run, it's time to think of the details. Write a business plan and you'll have a good idea of how to bring your business to life.
Here are some things you'll have to consider:
Cleaning Materials and Equipment
If you're offering standard domestic or commercial cleaning services, you'll likely only have to budget for basics, such as mops, cloths, and cleaning products. But if you're offering more specialist services you'll need specialist equipment, which will obviously cost you much more.
Staff Needed for Cleaning
Think about the positions you'll need to fill, and the key responsibilities each member of the team should have. Also consider "backroom" tasks, such as accounting and marketing. You could cover these things yourself, but you might find it much easier to hire someone to do it for you.
How to Price Cleaning Services
How much will you charge for your services? You could either charge by the hour, or by the project. When working out how much to charge, it's important to consider your overheads. That's why it's worth budgeting your running cost and thinking about your staffing needs before you set your rates. You can read our complete guide to working out how much to charge.
Cleaning Business Location
Of course, you'll be doing the bulk of your work on other peoples' premises. But where will you run your business from? Will you get dedicated business premises, or will you run your business from home? You can read our complete guide to running a business from your home.
Marketing for Cleaning Businesses
How will your customers find you, and how will you stand out from your competitors? If you're offering domestic cleaning services, you could get by with a card in a shop window. Though if you're offering more substantial commercial or specialist cleaning services, you'll need a dedicated marketing plan – with a website, a social media presence, and a marketing budget. These things take time. So unless you're willing to do it all yourself, and unless you intend on hiring a marketing specialist, consider hiring a marketing agency to take care of things for you.
We have a guide to making a cashflow forecast for a small business that will help you map out the various aspects you need to consider to get your cleaning business off the ground.
Funding Your Cleaning Business
Once you've written your business plan, it might become clear that you need a lot of cash to get things going – whether it's to buy equipment, hire staff, or to invest in a new website and marketing plan.
There's lots of help available in the form of business start-up grants and loans. For more information, read our complete guide to funding your cleaning business.
Starting a Cleaning Business – The Legal Bit
You'll eventually have to register your cleaning business. This means telling the government who you are, what you do, and how your business is structured. That way, the government will know how much to tax you.
You can either register as a sole trader, a limited company, or a partnership. We have a guide to how each of these different arrangements works, which also talks you through the legal process for setting up your business.
At this point you'll also have to choose a name for your cleaning business. There are certain restrictions when it comes to naming your business. For example, you can't breach any existing trademarks, use any "sensitive words and expressions", or imply you're connected with government departments. For more information, read the restrictions in full.
Once you've registered your cleaning business, you'll take on additional tax responsibilities. These include keeping detailed financial records, and submitting a tax return once a year. Just like with marketing, if you're worried about doing this yourself, consider hiring an accountant to help you.
Once your annual turnover exceeds £85,000, you'll have to register for VAT. Read our guide to registering for VAT.
Finally, consider opening a business bank account. You can read our guide to business bank accounts and the benefits they offer.
Insuring Your Cleaning Business
Cleaning can be risky business, with a relatively high chance of accident, injury, and damage to property. Insurance offers an essential safety net, offering total peace of mind that you'll be fully covered should anything go wrong.
Here are the types of insurance you should consider for your cleaning business:
We offer specialist insurance cover tailored to suit the needs of self-employed contractors and small business owners. Our cover starts at 35p a day with no hidden fees, and you can get a free quote online in minutes.
If you have any questions or would like to discuss your options please contact the Tapoly team at info@tapoly.com, call our help line on +44(0)207 846 0108 or try our chat on our website.