Medical malpractice insurance can cover anyone who provides medical care when there's a risk of injury, illness or death as a result of the services they provide. Learn more about what medical malpractice is, what it covers and what it doesn't cover.
Because there are a lot of different sorts of medical practitioners, there are a lot of different types of medical malpractice insurance too. In this post, we'll look at the sort of medical malpractice insurance policies that are most suitable for nurses and practitioners.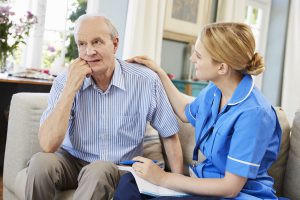 Which Type of Medical Malpractice Insurance for Nurses and Practitioners is Right for You?
There are two main types of medical malpractice insurance policies. These are occurrence policies, and claims-made policies.
Which sort of medical malpractice policy is right for you? To help you decide, let's explore each type in more depth.
Occurrence Medical Malpractice Insurance
If you're a nurse or a practitioner, an occurrence policy will cover you for malpractice claims no matter how much time has passed since the incident occurred. These sorts of policies can cover you for incidents that happened years ago, even if you're no longer working at the same place, and even if you've long-since retired.
Occurrence medical malpractice insurance policies tend to cost more than other types of medical malpractice insurance policies. But that's mainly because they're so comprehensive. They offer total peace of mind that you'll be covered no matter how long's passed since the incident.
Claims-Based Medical Malpractice Insurance
Claims-based medical malpractice insurance is a more affordable option for nurses and practitioners, but it does not offer as much cover as an occurrence policy. A claims-based policy will only cover you for incidents that occur, and are reported, while you hold the policy.
So unlike an occurrence policy, a claims-based policy won't cover you for historic incidents. If you retire, or if you leave your employee, and someone makes a claim against you, then you could be personally accountable.
Do I Need Medical Malpractice Insurance?
If you're a nurse or a practitioner, then yes, you do need medical malpractice insurance. Anyone who provides any form of healthcare or ancillary services to patients should consider getting cover. The work you do is often life or death. Insurance can help you, your employer and your patients manage the inherent risks of your job.
One thing many nurses and practitioners wonder is – do I need to get my own medical malpractice insurance?
Your employer should already have a group policy in place. So talk to them. Ask for details on the sort of policy they have, and think about whether there are any gaps in their policy that might leave you vulnerable.
For example, their policy might only cover you for certain types of work, or for working at certain hours. It might not cover you for "good Samaritan" acts – incidents where you provide emergency assistance for someone who's not under your direct care.
If you feel your employer's group policy doesn't provide all the cover you need, then you might consider getting your own policy to complement your employer's.
Got any more questions about medical malpractice insurance? Head here to learn more. And if you want to find out more about getting a personal medical malpractice insurance policy, head here to get a free quote in minutes.
If you have any questions or would like to discuss your options please contact our Tapoly team at info@tapoly.com, call our help line on +44(0)2078460108 or try our chat on our website.