It's common for people to confuse psychologists with psychiatrists, and vice versa. Both roles involve studying how certain factors can influence or affect an individual's mental functioning. But there are key differences between the roles, which means that each role involves a different set of qualifications.
In this post we'll discuss the main differences between a psychologist and a psychiatrist. If you're considering a role in either field, or if you want to switch from one to another, this post should give you some idea of what this might take.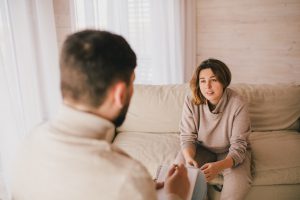 The Main Difference Between Psychiatrists and Psychologists
The most important difference between psychologists and psychiatrists is that psychiatrists can prescribe medicine, whereas psychologists usually cannot.
Because of this critical difference, only psychiatrists need appropriate medical training. Psychologists still need advanced qualifications before they can practice. Though rather than a medical degree, they need to complete an accredited doctorate degree in psychology.
Beyond this, both psychiatrists and psychologists will conduct broadly similar tests, evaluations, and assessments, and both may offer talking therapies to patients. It's therefore easy to see why people might get these two disciplines mixed up. So let's take a closer look at what each of these two separate, yet interconnected, roles involve.
What Does a Psychiatrist Do?
A psychiatrist is a type of doctor. As a qualified physician, they work to diagnose, treat, and prevent mental health conditions. In studying how certain processes might influence an individual's mental functioning, psychiatrists primarily focus on biological processes. It's their understanding of biological processes that qualifies a psychiatrist to prescribe medicine.
Where Can Psychiatrists Work?
A psychiatrist can work in an establishment such as a hospital or a prison, or they can establish their own practice.
Psychiatrist Specialisms
Psychiatrists can help with problems such as depression, schizophrenia, anxiety, eating disorders, and the sort of physical conditions that might affect a patient's health. Some psychiatrists also specialise in certain areas. For example, they may choose to work with adults, children, older people, or people with learning disabilities.
What Qualifications Does a Psychiatrist Need?
An appropriate medical degree (such as an MBBS or an MBChB).
Foundation training via a two-year foundation programme involving a number of training posts.
Three years of Core Training (CT1, CT2, and CT3), culminating in the MRCPsych exam.
If you want to specialise in any particular area, you will also need to complete Higher Psychiatry Training, again over three years (ST4, ST5, and ST6).
What Does a Psychologist Do?
Whereas psychiatrists focus on biological processes, psychologists are more focused on how social, personal, and external factors can influence an individual's mental functioning. This might involve studying a person's thoughts, feelings, memories, and certain social or environmental influences.
Where Can Psychologists Work?
Psychologists might work in a hospital or health centre, in their own private practice, or even on a client's own premises. Some psychologists are more research orientated, whereas others are more focused on practice. A psychologist who works directly with patients in a healthcare setting might be referred to as a clinical psychologist.
Psychologist Specialisms
Like psychiatrists, psychologists can choose to specialise in a range of different areas. They might choose to work with people with specific learning or emotional issues, with people suffering from brain injuries, or with people who have undergone traumatic experiences, such as prisoners or ex-soldiers. Some psychologists also work to improve individual's or team's motivation and performance in professional environments.
What Qualifications Does a Psychologist Need?
A degree in psychology accredited by The British Psychological Society. Failing this, you can apply for a relevant conversion course.
Depending on where you want to specialise, you may then need to complete further study. For example, to become a clinical psychologist you'll need to complete a dedicated postgraduate doctorate, which may require you to provide evidence of relevant work experience.
It's also possible to work apprenticeships in certain forms of psychology. For this, you'll need to apply for Graduate Membership of the British Psychological Society (GMBPsS).
One Thing Both Psychiatrists and Psychologists Need
Whether you're a practising psychiatrist or a psychologist, you'll need specialist insurance to cover you and your patients for certain risks. If a psychiatrist prescribes a patient the wrong medicine, or if a psychologist gives advice that proves damaging, then patients or their families may make a claim against you. In this case, the right insurance can cover all legal fees along with any compensation you may be required to pay.
Depending on the nature of your work and your specialisms, you'll may need either treatment risk insurance or medical malpractice insurance.
At Tapoly, we specialise in providing specialists in a range of fields with comprehensive cover for less. Get a free quote online in minutes.
If you have any questions, or if you'd like to discuss your insurance cover options, you can contact the Tapoly team at info@tapoly.com. You can also call out help line on +44 (0)207 846 0108, or you can use our website chat.