An insurance broker acts as an intermediary between a client and either a single insurer, or a selection of insurance companies. First, they'll work to ensure you get cover that meets your exact needs. Then, in the event of a claim, they can manage the process on your behalf to ensure you get a fair settlement.
In this post we'll take a closer look at the role of an insurance broker, so you can decide whether working with an insurance broker is right for you.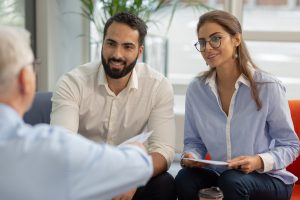 What is the Role of an Insurance Broker?
In short, an insurance broker works to find suitable insurance packages for individuals and organisations. To begin with, they'll take the time to understand your insurance needs based on the size of your business, the sector you work in, and the unique risks you might face as a result.
An insurance broker is a type of insurance intermediary, which means that they work as a bridge between insurers and consumers. You can read our full guide to the different types of insurance intermediaries.
The broker will liaise with insurance providers to find an insurance package that meets all your needs, with no gaps in your cover. At the same time, they might advise you on certain risk management strategies you can adopt to help lower the price of your premiums.
Ongoing Relationships Between Insurance Brokers and Clients
Once you've got your cover, your insurance broker can continue to act as an intermediary between you and your insurers. They can help you maintain appropriate records and handle key administrative tasks. Plus, any time you need to change or renew your cover, they can manage the process for you.
Insurance brokers can also offer ongoing financial and risk management advice. This will help you respond to changes in your industry while securing the best price for your cover year after year.
Claims Management
If you ever need to make a claim on your insurance, brokers can handle the entire process for you.
They'll talk to insurance claims departments, loss adjusters, surveyors, and administrators to ensure the claims process goes as smoothly and as quickly as possible. In this way, they'll help you secure the settlement you deserve, leaving you free to focus on your business.
4 Benefits of Working With an Insurance Broker
Get tailored insurance cover. Insurers don't always advertise all of their insurance products on their website, or on price comparison sites. A broker can help you access the niche cover that will insurer you for all the risks you face, with no risk of underinsurance.
Save money on the cost of cover. Insurance brokers can offer ongoing risk management and financial advice. This will help you adapt to changes in both your industry and the insurance industry. And because insurers often offer discounts to businesses who meet certain risk management criteria, the support of a broker can help you save money on your premiums.
Save time on numerous administrative tasks. Insurance brokers won't just save you time when it comes to arranging and buying insurance. They'll also save you time on record keeping, insurance renewals and, of course, the claims process.
Faster and fairer insurance claims. Through handling the claims process on your behalf, insurance brokers can help you ensure you get the settlement you deserve as quickly as possible, with the minimum of hassle.
Do Insurance Brokers Charge For Their Services?
Yes, as insurance brokers offer an expert professional service, many of them charge an admin fee. However, the benefits will always outweigh the costs. As we mentioned above, a good insurance broker can actually help you save money on the price of your premiums. On top of this, you simply cannot put a price on having comprehensive cover, with no gaps in your insurance.
Get in touch to discuss how Tapoly can give you the cover you need at a truly competitive price.
If you have any questions or would like to discuss your options, please contact our Tapoly team at info@tapoly.com, call our helpline on +44(0)207 846 0108 or try our chat on our website.