If you work for an employer, you'll receive statutory sick pay if illness or injury ever puts you out of work. Depending on your employer, you may even receive additional benefits on top of your statutory pay.
But self-employed workers don't always have this safety net. So how can you insure yourself against long-term illness or injury if you're self-employed?
Self-employed workers can get insurance for sickness, illness or injury. But before we explore your insurance options, let's take a look at some of the benefits you might be able to claim.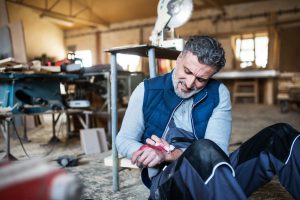 Can Self-Employed People Get Statutory Sick Pay?
There are some cases where self-employed people can claim statutory sick pay. A director of a limited company can, but unfortunately, you cannot claim statutory sick pay if you're a sole trader, or if you're in a partnership. However, you may be able to claim some additional benefits.
The reason for this difference is that it all depends on the structure of your self-employed business. When you first register as self-employed, you can either register as a sole-trader, a partnership, or as a limited company. Head here to read our guide to the difference between sole-traders, partnerships, and limited companies.
If you're the director of a limited company, then technically you'll be an employee of your own company. This means you will be able to claim statutory sick pay at the same rate as your employees, if illness and injury ever puts you out of work.
Sickness Benefits for Self-Employed People
If you have a long-term illness or an injury that puts you out of work, you might be able to claim Employment and Support Allowance (ESA). The DWP pays this at a rate of £74.35 a week if you're over 25, or £58.90 a week if you're under 25. The DWP will review your case after three months. In some cases, this might result in them paying you a higher rate.
You can't claim ESA for the first seven days you're unable to work. Once you make your claim, it can take a few weeks for the DWP to process your case. But if they accept your claim, they may backdate your payments for up to three months.
Head here to read the government's complete guide to ESA.
Insurance for Sickness, Illness or Injury – An Alternative to Benefits
Even if you're a self-employed worker, you can get support if illness or injury ever puts you out of action. But you cannot depend on these benefits. They may not stretch to cover all of your living expenses. Plus, there's every chance the DWP may reject your claim for ESA.
That's why some insurers offer illness and injury insurance for self-employed people. It offers total peace of mind through helping you pay the bills while you focus on your recovery.
For example, at Tapoly we offer Personal Accident Insurance as an add-on to our Professional Indemnity Insurance policies. We also offer comprehensive health insurance policies for small businesses.
If you have any questions or would like to discuss your options please contact our Tapoly team at info@tapoly.com, call our helpline on +44(0)2078 460 108 or try our chat on our website.
Has your business been impacted by Covid?
If your business has been financially impacted by the Covid pandemic or you're just looking for up to date information, there is support available to help you.
Useful links:
Claiming financial support under the test and trace support payment scheme
General information and updates on the Covid pandemic from the Government