All vets in the UK must be registered with the Royal College of Veterinary Surgeons (RCVS) in order to practise. The RCVS is a statutory regulator and sets the standards for veterinary education, regulating the professional conduct of vets.
Vets are service providers and, as such, must adhere to the Consumer Rights Act, which states that services should be provided with reasonable care and skill. When a customer relies on the information provided by a vet, regardless of whether that's given verbally or in writing, the Consumer Rights Act treats that as binding. This protects the customer.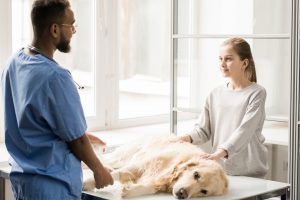 What Action Can Customers Take if They Are Dissatisfied?
If a customer believes a vet has failed to meet the professional standards they were expecting, they can complain to the RCVS, who will investigate the complaint.
Under the Consumer Rights Act, if the vet is found to have performed work without reasonable care and skill, the customer can request one of two remedies, depending on which is most appropriate. They can:
Ask the vet to do the work again at no cost and at a time convenient to the customer
Claim for a price reduction. Depending on the severity of the failings, this could be up to a 100% refund.
If the customer's pet or animal has suffered pain or died because of the negligence of the vet, they may make a claim for compensation against the vet's insurance policy.
How Can Vets Protect Themselves?
The RCVS stipulate that all vets must protect themselves with Professional Indemnity insurance. This provides vets with protection if a claim is made as a result of a breach of professional duty. This will cover the legal costs for defending the claim and any damages awarded.
For vets, the best course of action is to buy Professional Indemnity insurance as part of a Medical Malpractice policy. Different providers of Medical Malpractice insurance provide different levels of cover. Most include Public Liability as well as Professional Indemnity insurance as standard.
It isn't mandatory to have Public Liability insurance in place in the same way that Professional Indemnity insurance is a legal requirement. Nevertheless, it's important for vets to have Public Liability insurance. This is because it covers them if a customer or member of the public is injured or hurt in some way while visiting their veterinary practice.
Medical Malpractice Insurance From Tapoly
Tapoly offers comprehensive Medical Malpractice insurance at an affordable price. As a Lloyds coverholder and regulated by the Financial Conduct Authority, it's a name that can be trusted.
Whether you're a newly qualified vet looking for Medical Malpractice insurance for the first time, or your existing policy is up for renewal, why not get in touch for a quote?
If you have any questions or would like to discuss your options please contact our Tapoly team at info@tapoly.com, call our help line on +44(0)2078460108 or try our chat on our website.