Starting and running a recruitment business looks so simple on paper. On the one hand, you have a bunch of people who need work. On the other hand, you have a bunch of businesses that need workers. So running a recruitment business is simply a case of introducing one set of people to another – making sure that the right person goes to the right job.
But in practice, of course, it's a lot more complicated than that.
Let's take a look at what's really involved in starting and running your own recruitment business. Who knows? This brief look at a dynamic industry might make you want to set up a recruitment business of your own.
Before starting your own recruitment agency, you need to have a sure idea of what recruitment consultants do, what their work looks like and what else you might need to think about before setting up on your own.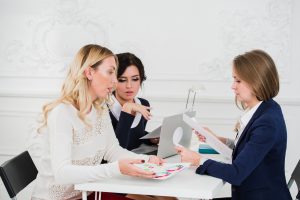 What Does a Recruitment Consultant Do?
Recruitment consultants are essentially middlemen. They help businesses find the best person for every job that needs filling. At the same time, they'll help jobseekers find the perfect job for them.
But they're much more than simple match-makers. They're consultants. That means that they have a level of expertise in their field, and their insights can help businesses solve problems and achieve growth.
When it comes to recruitment, consultants might advise on the sort of skills and personality profiles employers should look for to fill each role. They might help employers to look beyond the CV, while helping candidates look beyond the job profile. The aim is to find someone who'll flourish in the role and, crucially, stick around – so that the employer won't have to do any more recruitment before long!
Recruitment consultants only get paid once they've successfully placed a candidate. So it's in their best interests to find the best person for every role.
Is Starting a Recruitment Agency For You?
If you're a people-person who loves solving problems, setting up a recruitment consultancy business of your own might be for you.
Just like any budding consultant, you'll have to be able to prove your expertise to potential clients. Recruitment consultants also need strong networking skills, and there are many legal and regulatory boxes you'll need to check before you get started.
Running your Recruitment Agency: A Day in the Life of a Recruitment Consultant
How does the process work? It starts with profiling.
Profiling
An employer will approach the recruitment consultant with a role they need filling. The consultant will then collect as much information as they can about the role. Everything matters, from the daily responsibilities, to the desired skills and responsibilities, to the possible career prospects.
Candidate Search
After this, the search begins. Once the recruitment consultant understands the role inside and out, they'll have a good idea of what sort of candidate to look for. They'll search multiple channels. They might post the job on online directories. They might search online CV databases, or do some headhunting on LinkedIn. Some recruitment consultants have portfolios full of jobseekers, or of people they know are open for a change of scenery.
It takes a lot of work to find suitable candidates, and some roles are harder to fill than others. This is why businesses find recruitment consultants so valuable. At any one time, there'll be a lot of people looking for work. The recruitment consultant's skills involve looking beyond the CV and beyond the experience and job history to find the best possible candidate for each role.
This saves businesses a lot of time and, by extension, a lot of money. It means there'll be fewer people to interview, and that the person they ultimately hire will be a better fit for the company.
Advocacy and Job Placement
From this point on, the recruitment consultant will act as a sort of advocate for the candidate. The candidate will go through the interview and screening process, and the consultant might liaise between them and the company – sourcing references, clearing up gaps in the candidate's employment history, and so on. And should the company wish to make an offer, the consultant might represent the candidate in a negotiation, to ensure that everyone gets the best possible deal when it comes to things like salary, bonuses, and more.
Candidate Follow Up
Even after they've placed a candidate, the recruitment consultant might keep in touch. Perhaps the candidate will be looking for another change of job in a few years. Or maybe they'll know of people from a similar background and with similar skills who might be a good candidate for a future role. The recruitment consultant is always looking to grow their network, which is another thing that makes them so valuable to businesses.
Starting a Recruitment Agency Under Lockdown
How has the Coronavirus lockdown affected the life of recruitment consultants?
On a practical level, it's likely that not much has changed for recruitment consultants under lockdown. All they really need to do their job is a laptop, a smartphone and an internet connection. They can therefore work from anywhere, so they'll have had no difficulty in working from home.
Beyond this, just like everyone else, recruitment consultants have probably found lockdown challenging. Covid-19 doubtlessly caused many businesses to halt their recruitment processes. And as recruitment consultants only get paid once they successfully place a candidate, the lockdown months have probably been tough.
How to Start Your Recruitment Agency
Despite some companies pausing their recruitment, there's still a lot of work to do. Many consultants will have adapted to the uncertainty of lockdown.
Perhaps you have time off work yourself and have been planning to start your own recruitment agency for a while. If so, you could start:
Reaching out to businesses to enquire into their staffing needs
Spend time monitoring online CV libraries and job directories
Planning and managing the administrative side of setting up an agency
For the legal and administrating side for things, we have a detailed guide to starting your own consulting business. It covers everything, from the legal process of setting yourself up, to setting your fees, finding your first clients, and other more practical considerations. Find our guide here.
A lot of people under furlough may have been seeking alternative sources of income. And as companies adapt to new business models, they may soon realise that they have new staffing requirements.
With all this in mind, recruitment consultants will have spotted a lot of opportunities – plenty of skilled people in need of work, and plenty of overstretched companies in need of people. Their matchmaking skills are just as valuable as ever – even if it's been more of a challenge to find the opportunities.
But many furloughed employees might be made redundant once the government ends the support scheme. There'll soon be a lot of very skilled people looking for work. Life may soon get very busy indeed for recruitment consultants.
What Sort of Insurance Does a Recruitment Consultant Need?
Most recruitment consultants specialise in certain industries, and each industry will have its own unique laws and regulations. So the sort of insurance a recruitment consultant needs will depend on the industry they work in. Someone who specialises in sourcing medical scientists will need slightly different insurance to someone who specialises in sourcing sales experts.
But there are certain types of insurance that all recruitment consultants should consider. The most important of all is professional indemnity insurance. This will cover the consultant and the company for any expenses incurred should it turn out the candidate wasn't quite the right fit for the role.
We have a complete guide to the different types of insurance that recruitment consultants might need. Through outlining the various types of cover available, you should find it easier to build a policy that suits your needs. Find it here.
If you're serious about becoming a recruitment consultant, you will need insurance. Specifically, professional indemnity insurance. This will cover you should your expert advice not deliver the perfect candidates your clients expect. Indeed, some clients may refuse to work with you unless you have professional indemnity insurance. We can cover you for as little as £11 a month.
If you would like an insurance quote or have any questions about our products please give us a call on 020 7846 0108 or email us at info@tapoly.com.