Want to become a freelance makeup artist? This is your step-by-step guide to taking your skills with blusher and eyeliner to a professional level.
What Does a Makeup Artist Do?
Makeup artists are masters of cosmetics, able to significantly enhance a person's natural features, or else change the way they look completely. The most common work for makeup artists involves working at weddings and other special events to make the big day extra special.
Makeup artists might also work at fashion shows and photo shoots, and behind the scenes of theatre and TV productions. And then there's what must be the dream role of every aspiring makeup artist: To work with film stars and A-list celebrities across the world.
Some makeup artists are employees of production companies and other organisations. However, most makeup artists work on a freelance, self-employed basis. So if you want to become a makeup artist, you'll have to go through the process of setting up your own business.
But there are some things you should consider before you think about this process.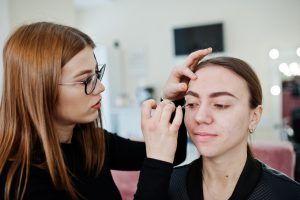 What Qualifications Do You Need to Become a Makeup Artist?
There are no laws that say you need any specific qualifications to become a makeup artist. However, professional training can fast-track your success. You can learn new skills and techniques, or more effective and efficient ways to do things you already know how to do.
Plus, qualifications will help you win new clients, as they'll prove to many that you know what you're doing. Indeed, certain larger clients may refuse to work with you unless you can show your credentials.
You can take a college course to get a Level 2 Certificate in Makeup, or a Level 3 Diploma in Theatrical and Media Makeup or Beauty Makeup Techniques. Many universities also offer specialist makeup courses.
You can use this resource on the government's website to find makeup courses near you.
Makeup Schools and Beauty Colleges
There are many beauty academies in the UK offering a range of specialist courses and facilities for budding makeup artists.
Other Routes to Becoming a Makeup Artist
Makeup Artist Apprenticeships
Develop your experience in a real-world setting and get on-the-job experience through working closely with the experts. To qualify for an intermediate beauty therapy apprenticeship, you often just need a few GCSEs, usually including maths and English. Head here for a detailed guide to becoming an apprentice.
Make Up Work Experience
Try and find work in a salon, a photography studio, or at a cosmetics counter. This'll help you learn about a wide range of products and techniques, and you might also meet some future clients.
Volunteering as a Make Up Artist
Reach out to the theatres and amateur dramatic societies in your local community. Volunteer to do their makeup, for free, as an opportunity to build up your experience. You could also offer to do makeup for your friends and family at weddings or other special events.
Building a Make Up Artist Portfolio
In any case, your aim is to build up a strong professional portfolio. That way, when you are ready to go independent, you'll be able to demonstrate your skills to potential clients. In some cases, a professional portfolio might prove more useful in winning clients than professional qualifications. But of course, it's best to have both: Qualifications and strong evidence of your skills as a makeup artist.
How to Set Up Your Make Up Artist Business
If you've got the skills, the qualifications, the contacts and the confidence, then you might be ready to finally set up your own self-employed makeup artist business! It's easier than you might think to go self-employed. In short, you just have to choose a name for your business, and then register your business.
But of course, once you've registered as a self-employed freelancer, you'll take on a host of additional responsibilities. For example, you'll have to keep detailed financial records and submit a tax return once a year.
Plus, if you've never been self-employed before, it might surprise you to learn how much work it takes just to keep things running. You'll be solely responsible for you own accounting, marketing, admin, and more. And all of this is above and beyond your professional work as a makeup artist!
Certain apps can make a lot of these tasks significantly easier. And if you really struggle, you can eventually hire accountants and marketers to help you out. But in the early days of your self-employed life, you might find things a little overwhelming. So make sure you're ready before you begin!
We have a complete guide to going self-employed for the first time. It features:
A step-by-step guide to registering your business, with more information on the legal aspects (e.g. should you register as a sole trader, or a limited company?).
More information about your legal and financial responsibilities as a self-employed worker.
A guide to choosing a name for your business, with information on what is and isn't allowed.
Links to additional resources, including guides to business premises, business bank accounts, and primers on pensions and national insurance for the self-employed.
Read our guide to going self-employed for the first time.
One More Thing: Makeup Artist Insurance!
You'll need specialist insurance to cover you and your clients from the risks of the job. As a makeup artist, insurance can cover you for the loss or theft of your specialist equipment, as well as for other on-the-job mishaps, such as spilling a bottle of nail polish on a client's carpet. You might also need specialist treatment liability insurance, just in case you accidentally injure a client while providing your beauty treatment.
At Tapoly, we specialise in giving self-employed workers comprehensive cover for less. You can get tailored self-employed insurance starting at just 35p a day, with no hidden fees.
If you have any questions, or you'd like to discuss your options, you can contact the Tapoly team at info@tapoly.com. You can also call our helpline on +44(0)207 846 0108, or you can use our online website chat.