Dogs need lots of fresh air and exercise every day. But not all dog owners have the time or the energy to take their dogs for daily walks. That's why there'll always be a demand for dog walkers!
So if you want to start your own dog walking business – or just make a little extra money on the side – we'll show you how.
What Qualifications Do I Need to Become a Dog Walker?
Legally, you do not need any formal qualifications or training to become a dog walker. However, formal qualifications can act as proof that people can trust you with their dogs. This can help you gain new customers when you're just starting out.
You can get certain animal care qualifications from colleges and training centres across the UK. These include a Level 2 Certificate of Technical Competence in Dog Walking. For more information, head to the City and Guilds site.
Think Dog also offer specialist training and certificates in canine behaviour.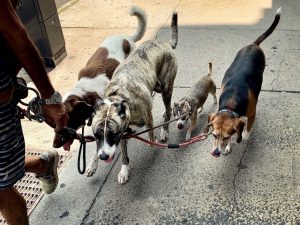 How Can I Get Dog Walking Experience?
If you want to build up your experience with dogs, volunteer at your local kennels or animal rescue centre. This way you can develop your confidence and get some advice from the professionals on how to keep dogs calm and happy.
What Else Do I Need to Become a Dog Walker?
Dog walking can be surprisingly challenging work. It's certainly not for everyone. Here are some of the key skills and qualities you'll need to become a successful dog walker:
Must Love Dogs – This one's obvious! But it's not enough to simply love dogs. You have to really understand dogs too. Dogs can be unpredictable, even volatile. It can be hard work getting even one dog to do what you want it to do. But if you're a professional dog walker, you'll regularly have to care for multiple dogs at once. This is where some additional training in canine behaviour management can make a huge difference.
Physical Fitness – You'll have to walk long distances every single day. You'll also have to be strong enough to control multiple dogs at once – holding their leads firm without letting them overpower you!
Not Afraid Of Getting Your Hands Dirty – You'll have to clean up after the dogs you look after. Also, you must be prepared to walk in some deeply unpleasant weather conditions – rain, sleet, snow, ice and mud.
A Good Communicator – You won't just work with dogs. You'll also work with their owners. And you'll have to be just as good at working with people as you are working with dogs. If you're a good communicator, you'll be able to grow your client base through convincing potential new customers that they can trust you with their dogs.
An Excellent Multitasker – Walking dogs will be the core of your business. But you'll also have to manage your accounts, your schedule, your customer service, and your marketing.
Dog Walking UK – Rules and Regulations
The National Association of Pet Sitters and Dog Walkers (NarpsUK) outline certain rules and regulations that all dog walkers should follow:
Always meet the dog's owners before they make their first booking.
Keep detailed records of all the work you do – dogs, owners, location, and so on.
Never walk more than four dogs at a time.
Always clean up after your dogs – if you don't, you could get a fine of up to £1,000!
Make sure all the dogs in your care wear a collar containing their owner's name and address.
Some dog walkers take care of dogs while their owners are out. For this, you'll need access to the owner's home, which means you'll need a Criminal Record Check.
In England and Wales you can get a basic DBS check for £23. In Scotland a Basic Disclosure costs £25, while in Northern Ireland it costs £18.
How Much Should I Charge for Dog Walking?
Do your research. Find out how much other dog walkers are charging in your area. You'll probably find that most dog walkers charge up to £15 per dog, and that most offer walks that last between 30 minutes and an hour.
So if you do multiple walks for multiple dogs each day, you stand to earn quite a lot!
Don't be tempted to charge less than your competitors. This might help you win some clients in the early days. But you might struggle to meet your overheads, and some potential clients might assume that, because you charge less, you're offering an inferior service!
It's never a good idea to undersell yourself. Head here to read our full guide to working out your hourly rate for your self-employed business.
How to Register Your Dog Walking Business
You need to officially register your dog walking business.
This is essentially to let the government know who you are and what you're doing. It's quite a straightforward process, and you can read our guide to getting started.
Once you register your dog walking business, you'll take on certain financial responsibilities. You'll have to keep detailed accounts, and you'll have to submit a tax return every year.
Don't worry – this isn't as complicated as you might think! But if you've never had to do your own taxes before, it might seem overwhelming. So if you think you'll struggle, you might consider hiring a bookkeeper and an accountant to take care of these things for you.
How to Grow Your Dog Walking Business
It's important to plan for growth! Here's some ideas for where you could take your dog walking business:
Grow Your Area. To begin with, you'll probably want to focus on walking dogs in your local area. But as you grow, you could start attracting clients from farther afield. For this, you'll eventually need transport. Aim to buy a van, and to modify it to suit your canine passengers' needs. As an added bonus, driving around with your business name on the side of the van could help you attract even more customers.
Expand Your Operations. The more dogs you walk, the more money you'll make. But you can only walk so many dogs at a time. So eventually you could aim to hire additional dog walkers. That way, you can walk multiple dogs in your local area and beyond every single day. You could even aim to hire dog walkers in different areas, with a fleet of specialist dog walking vehicles operating in multiple cities at once.
Diversify. Why stop at walking dogs? You could eventually also offer dog grooming services, and even dog health and nutrition advice. You'll probably need to undertake additional training for these services, and you'll also have to think about specialist equipment and facilities. But more services mean more clients, and more money.
Insuring Your Dog Walking Business
Dog walking can be risky business. It's essential that you get some specialist business insurance to help you manage the risks.
There are numerous different types of cover to choose from, including public liability insurance, professional indemnity insurance, and contents insurance. You can read our guide to the various types of business insurance, and what they cover.
Business insurance can be a lifesaver. But that doesn't mean it has to cost the Earth. At Tapoly, we specialise in bespoke insurance for self-employed professionals, with cover starting at just 50p a day.
If you have any questions, or you'd like to discuss your options, you can contact the Tapoly team at info@tapoly.com. You can also call our helpline on +44(0)207 846 0108, or you can use our website chat function.