If you're a freelance self-employed graphic designer, then the right insurance can cover you for all the risks you might face in your work.
Professional indemnity insurance is particularly important for graphic designers. In this post we'll explain what professional indemnity insurance is and why you need it, before discussing some of the other insurance products you should consider.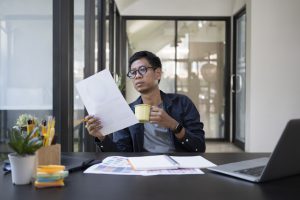 What is Professional Indemnity Insurance?
Essentially, professional indemnity insurance covers you for any mistakes or misjudgements you might make when you're working with a client.
No matter how good you are at your work, everyone makes mistakes. Plus, there will always be the chance that your clients might make a claim against you for financial or reputational losses they feel they've experienced as a result of working with you.
You can read a full introduction to what professional indemnity insurance is, and what it covers.
Do Graphic Designers Need Professional Indemnity Insurance?
Let's say you design a new logo for a client. It's all your own work, and as far as you know, it doesn't breach any other organisation's copyright. But what if another organisation out there insists that your design bears a close resemblance to theirs? They might take your client to court. And if they do so, your client will almost certainly suffer financial and reputational losses.
And who do you think they'll blame for their troubles? The person responsible for creating the problematic logo in the first place, of course. That's you.
This is just one example of why graphic designers need professional indemnity insurance.
What Does Professional Indemnity Insurance Cover?
Professional indemnity insurance will cover you for claims involving negligence, dishonesty, defamation, and intellectual property infringement. If a client takes you to court, a professional indemnity insurance policy will cover your legal fees, your court costs, and any compensation you might be required to pay. Even if your case is successful, these costs can amount to thousands. So professional indemnity insurance will help your business stay afloat.
You might think it's unlikely that your clients will ever make a claim against you. And maybe you're right. But anything can happen in the world of work. And if you're ever facing legal action, you'll be very glad indeed you have a professional indemnity insurance policy to cover all of your expenses.
Common Claims Against Graphical Designers
If the examples so far seem far-fetched, then consider some other scenarios that might land you in some legal hot water:
Licence violations – For software packages, fonts etc.
Breach of contract – You might miss a deadline, or break some other condition outlined in the contract you signed.
Broken confidentiality agreements – You'd be surprised at how common this can be. All it takes is to unthinkingly CC someone into a confidential email. And if you use online cloud storage to share your work with clients, then it's all too easy to cross your wires and accidentally share the wrong file with the wrong client.
Reputational damages – What if you create a design that seems perfectly innocuous to you, but someone online declares that it's offensive? Just like with the copyright breach we discussed above, your client will take a hit on their reputation, and they'll likely hold you responsible for their troubles.
Is Professional Indemnity Insurance Legally Required for Graphic Designers?
No. You do not have a legal duty to get professional indemnity insurance. But as we've seen, there are many ways you could inadvertently bring trouble upon yourself. And in such cases, professional indemnity insurance will help you protect yourself and stay in business. So regardless of your legal obligations, professional indemnity insurance is truly something you cannot do without.
Indeed, some larger clients may refuse to work with you unless you have a professional indemnity insurance policy in place. They understand the risks they face, and they know that professional indemnity insurance will cover them for any losses they may incur through working with you.
So if you want your business to thrive and survive, then eventually you may have no choice but to get professional indemnity cover.
What Other Insurance Do Graphic Designers Need?
Public liability – This will cover you for any damages you might cause when visiting a client on their premises. If you spill some coffee on an expensive laptop, for example, public liability insurance can cover any repairs or replacements.
Cyber Breach – It's likely you conduct the majority of your business online. This makes you highly vulnerable to cybercrime. In the event of a cyberattack, cyber insurance can cover the costs involved in investigating, fixing, and managing the breach.
Contents Insurance – This will cover any equipment you use to do your job, including laptops, tablets, and other devices, for accidental loss, damage, or theft.
Personal Accident – If an injury ever puts you out of action for an extended period, personal accident insurance can provide you with a lump sum payment, so you don't have to worry about staying afloat while you recover.
Bespoke, Affordable, and Comprehensive Insurance For Graphic Designers
At Tapoly, we specialise in providing flexible and affordable professional indemnity insurance cover for graphic designers and other freelance creatives. Get in touch for a free quote today.
If you have any questions or would like to discuss your options, please contact our Tapoly team at info@tapoly.com. You can also call our help line on +44(0)207 846 0108 or try our chat on our website.